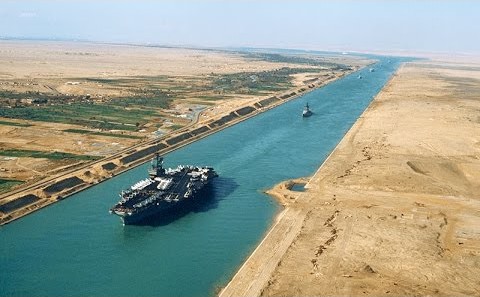 The Suez Canal Authority (SPA) celebrated the 152nd anniversary of the opening of the Suez Canal on Wednesday with over 1.4 million ships transiting the waterway since its inauguration.
The Suez Canal's actual history started with the first concession and the other concessions that followed all the way to the groundbreaking and then the completion of the digging on 18 August 1869, and the inauguration ceremony on 17 November 1869. A myriad of ships entered the canal that same day, headed by L'Aigle, the imperial vessel carrying the most important officials attending the inauguration ceremony. The unit was followed by 77 ships, 50 of which were warships.
Since then, around 1.4 million ships transited the canal with a total net tonnage of 31.1 billion tons, and quantities of goods estimated at 24.8 billion tons.
The Suez Canal is a significant route for energy, commodities, consumer goods and componentry from Asia and the Middle East to Europe. The canal is one of the busiest waterways in the world, accounting for about 12% of world shipping traffic.
In May this year, the Egyptian government approved the widening and deepening of the southern part of the Suez Canal, after the 20,000TEU container vessel Ever Given crippled the critical maritime artery.
Copyright Ships & Ports Ltd. Permission to use quotations from this article is granted subject to appropriate credit given to www.shipsandports.com.ng as the source.