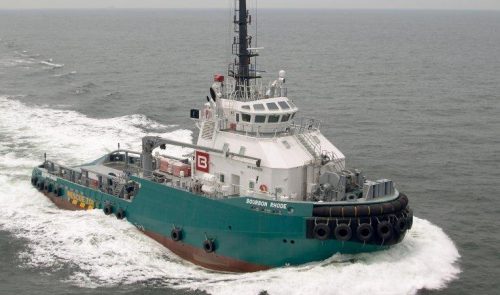 11 crew members are missing and three have been rescued after a Bourbon anchor handler tug sank in the Atlantic in Hurricane Lorenzo.
Search and rescue operations for Bourbon Rhode, which started taking on water on Thursday, have found in a lifeboat. The company said the it was confirmed the vessel which had a total of 14 crew on board had sunk.
The three surviving crew have been taken onboard a commercial vessels and had been placed under observation.
Bourbon had said previously that general cargoship had reached the last known location of vessel on Friday.
The search is continuing for 11 seafarers missing from the Bourbon Rhode and the company said weather conditions were improving.
"All necessary means are implemented by the Cross AG [Regional Operational Center of Surveillance and Rescue West Indies-Guyana] and the French Navy, under the authority of the Prefect representing the State's maritime authority, namely numerous flyovers carried out by the Falcon 50 over the search zone. Numerous commercial vessels have had their course changed in order to bring assistance, as well as a plane of the US National Hurricane Center," Bourbon said.
The Bourbon Rhode was in transit around 1,200 nm from Martinique and 60 nm from the category 4 hurricane Lorenzo on 26 September when it developed an ingress of water in the rear of the vessel.