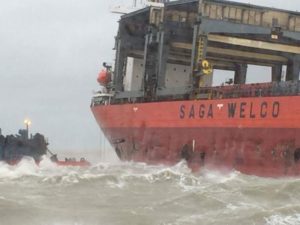 A major search and rescue operation off Dover, England on Sunday after a cargo ship with 23 crew members lost power and collided with a barge in heavy weather.
The general cargo ship, the Saga Sky, has been moved to a safe anchorage at Dungeness.
The UK Coastguard says it received a distress call from the Hong Kong-flagged Saga Sky at around 7:20 a.m. Sunday reporting it had lost power and steering. Weather caused the ship to drift into a rock barge at the Varne Bank approximately three miles southwest of Dover.
The hull of the Saga Sky was damaged in the collision and the ship was taking on water.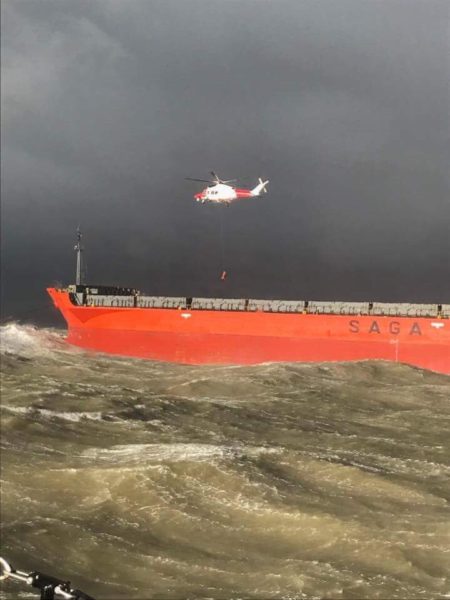 Two Coastguard helicopters airlifted 11 crew members from the deck of the Saga Sky. The Coastguard said the remaining 12 crew helped to move the vessel to a safe anchorage with the aid of a tug.
"The weather conditions this morning are particularly challenging and we have declared this a major incident," said Coastguard duty commander Steve Carson.
Plans were being made to attempt to move the vessel into a port of refuge. Inspectors, including one from the Maritime & Coastguard Agency are being sent to the Saga Sky to assess the damage before the vessel is moved.
Two RNLI lifeboats from Dover and Dungeness were also sent assist in the operation but have since been stood down.
The Port of Dover temporarily closed to ferry travel due to high winds. The port said conditions on the English Channel had reached Force 9 with moderate visibility.
The heavy weather was produced by Storm Angus hitting southern England over the the weekend.
The 47,000 dwt Saga Sky is operated by "open hatch" bulk specialist Saga Welco of Norway. The ship was built in 1996 and is 200 meters long.
Copyright Ships & Ports Ltd. Permission to use quotations from this article is granted subject to appropriate credit given to www.shipsandports.com.ng as the source.