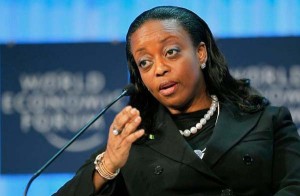 An Igbosere Chief Magistrates' Court in Lagos on Tuesday struck out a charge against a federal lawmaker, Aliyu Ahman Pategi, who was remanded Friday after failing to produce his wife, ex Minister of State for Defence, Oloye Jumoke Akinjide.
Chief Magistrate Afolashade freed Pategi following Akinjide's surrender Tuesday's afternoon to the Economic and Financial Crimes Commission (EFCC) at its Lagos office in Ikoyi.
Akinjide is wanted by the EFCC for alleged conspiracy and laundering of N650 million collected from former Minister of Petroleum Resources, Diezani Alison-Madueke in March 2015.
The agency said the money was part of the $115million allegedly illegally spent by Diezani in prosecution of the 2015 general elections.
Pategi, who stood as surety for Akinjide, also entered a N650m bail bond to produce her.
He was remanded following his failure to produce her before an Ibadan High Court where the commission filed a charge of conspiracy and laundering of N650m against her.