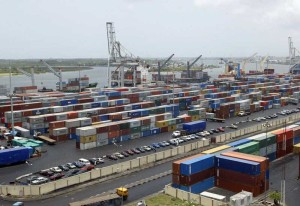 Twelve ships laden with petrol and other commodities are expected to berth at Lagos ports from April 25 to May 15. The Nigerian Ports Authority (NPA) announced in its `Shipping Position' on Wednesday that seven of the ships carried petrol.
It said that two ship of the contained aviation fuel, while others would berth with containers, ethanol and bulk fertiliser.
NPA explained that 35 ships laden with petroleum products, food items and other goods were also expected to arrive at the Apapa and Tin-Can Island ports.
It said that the expected ships contained buck wheat, containers, base oil, bulk corn, cargoes, bulk fertiliser, frozen fish, steel products, aviation fuel, and petrol.
NPA said that 19 other ships are currently at the ports discharging container, general cargoes, buck wheat, aviation fuel, empty containers, yellow maize, petrol and soda ash.