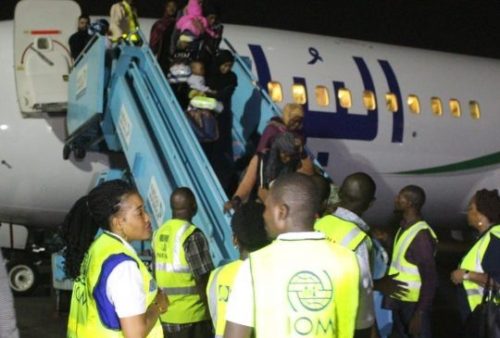 Another batch of 121 repatriated Nigerian migrants late Thursday, arrived at the Cargo Wing of the Murtala Muhammed International Airport, Lagos, from Libya
The migrants came aboard a chartered Al-Buraq aircraft and were received by the National Emergency Management Agency (NEMA) and other government agencies.
The NEMA Acting Zonal Coordinator, South West Zone, Segun Afolayan, who disclosed this to reporters on Friday in Lagos, urged the returnees to make good use of the second chance offered to them by God by forging ahead and making positive contributions to the development of the nation.
Afolayan said the migrants were assisted back home by the International Organisation for Migration (IOM) under its Assisted Voluntary Return Programme.
He said that the returnees are made up of 29 females, five children and four infants.
Other, he said, included 75 male adults, two male children and six male infants, adding that the migrants were brought back from three volatile cities in Libya- Sabha, Bram Alshati and Oubari.