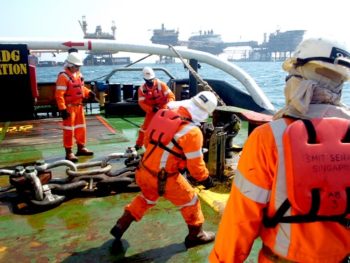 Over the last five years, 12 to 19 crew abandonment incidents were reported annually and 1,013 seafarers were involved in total, according to the International Labour Organization (ILO). 
Furthermore, figures from this year, as of July 31, show that 28 abandonment cases were reported, involving 339 seafarers. 
Of those 1,352 seafarers, 254 seafarers were from Ukraine, followed by India with 203 and the Philippines with 105 seafarers, rendering these nationalities among the most vulnerable categories of sailors when it comes to crew abandonment.
Jinhak Noh of ILO's Maritime and Transport Unit, Sectoral Policies Department, said, "As of July 31, 2017, there have been 287 incidents since January 1, 2004. Of those incidents, 144 cases are resolved and 57 cases are partially resolved (disputed cases). 
"The resolved cases remain in the database for statistical reasons only. There are also 50 inactive cases which means that no further update of information will be expected for them in the future. As a result, there are still 36 unresolved cases in the database.
"In 2017, 28 cases were reported by July 31 and out of that number, 7 cases were completely resolved and 2 were partially resolved. The number of cases reported increased drastically compared to the recent five-year period (12 to 19 cases). This may be due to more cases or due to greater awareness of the database or perhaps due to the publicity that has been given to the database at IMO meetings and events. 
"It seems that the increasing interest in abandonment cases by the related stakeholders as well as by seafarers themselves resulted in the higher number of cases being reported." 
Copyright Ships & Ports Ltd. Permission to use quotations from this article is granted subject to appropriate credit given to www.shipsandports.com.ng as the source.