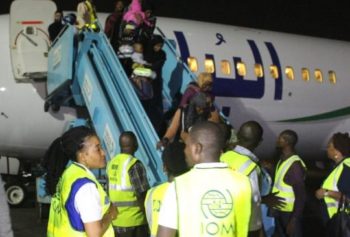 The South West Zonal Coordinator of the National Emergency Management Agency (NEMA), Suleiman Yakubu, on Thursday night received a batch of 144 repatriated Nigerians, including four pregnant women from Libya.
The Nigerian returnees arrived at the Cargo Wing of the Murtala Muhammed International Airport, Lagos at 10.30 p.m.
They arrived aboard a chartered Airbus 320 with registration number LZ-MDI operated by VIA Airways.
The returnees comprised 54 adult females — four of whom were pregnant — and seven female children.
There were also 79 adult males and four male children.
Officials of the Nigerian Immigration Service (NIS), the National Agency for the Prohibition of Trafficking in Persons (NAPTIP), Federal Airports Authority of Nigeria (FAAN) and the Police were also on hand to receive them.
The returnees were each given £100 (N35, 000) to settle down in Nigeria, while some state governments assisted them with transportation back home.
Telecommunication company, Airtel, in collaboration with the Office of the Senior Special Assistant to the President on Diaspora and Foreign Affairs, also gave the returnees free mobile handsets and sim cards to facilitate their reintegration.
The returnees were repatriated to Nigeria with the assistance of the International Organisation for Migration (IOM) and the European Union (EU).
In 2017, 6,806 Nigerians were brought back from Libya through the efforts of the IOM and EU.