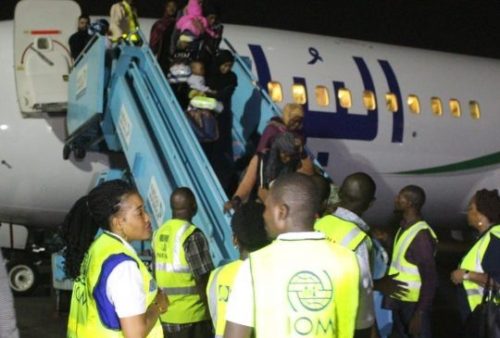 The National Emergency Management Agency (NEMA) early Friday, received another batch of 149 repatriated Nigerian migrants from Libya.
The migrants arrived at the Cargo Wing of the Murtala Muhammed International Airport, Lagos at about 1.20 am in a Buraq Airlines Boeing 737-8000 aircraft, with registration number 5A-DMG.
The migrants were repatriated to Nigeria by the International Organisation for Migration (IOM) under its Assisted Voluntary Return Programme.
The spokesperson for NEMA, South West Zone, Ibrahim Farinloye, said the majority of the returnees came back from Tripoli, the capital city of the volatile North African country.
He said they comprised of 81 adult males, 56 adult females, two male children, eight male infants, one female child and two female infants.
One of the returnees, Aminat Sunday, told journalists that she worked as a maid during her stay in Libya, adding that she was lured to the country due to family burdens and persuasion from her trafficker.
The 29-years-old lady who hails from Ifo Local Government Area (LGA) of Ogun state, said she regretted embarking on the journey as she had a very difficult experience in Libya.
According to her, she paid her trafficker with her full-year wages after arriving in Libya.
She said, "I was working as a housemaid cleaning tiles but the work made me come back home because it is very stressful, tiring and have serious health problems on my body.
"To be sincere, Nigeria is far better than Libya, I have learned my lessons in the wrong way but thank God I am still alive."
Sunday, therefore, advised other youths to learn from her experience and shun the urge of irregular migration in search of greener pastures.