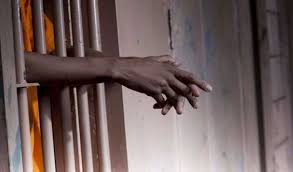 There are no fewer than 150 seafarers held in various prisons across Nigeria.
The National Seafarers Welfare Board (NSWB) disclosed this in Lagos on the sidelines of a courtesy call to the Managing Director of Greenview terminal, Lagos Port Complex (LPC) Apapa, Capt. Olugbenga Abidoye last week.
Speaking exclusively with SHIPS & PORTS DAILY, the Social Worker of the Board, Afusat Eke, said the seafarers were in prison for illegal bunkering and trading.
"The Board gave me the platform to go round the Nigerian prisons in the Niger Delta region and Lagos to find out the number of seafarers in our prisons.
"Presently, we have over 150 seafarers in our prisons. We have been visiting them and providing them with medicare, foodstuff and clothing. A lot of seafarers were in prison for illegal bunkering and illegal trade," she said.
Speaking further on the plight of seafarers in Nigeria, she said, "Some seafarers were abandoned in a hotel by the ship owner, according to the captain. They stayed in a hotel where they were to be given food at the cost of N3,000 a day. What they do is, take morning food, and then save the remaining by rationing it for lunch and dinner.
"The captain said when they started requesting for their rights, the ship owner started threatening them. The captain claimed that they were forcefully removed from the vessel and were taken to a hotel somewhere around Victoria Island in Lagos and that was when they were made to sign some documents under duress and were subsequently abandoned at the hotel.
"Few months later, they contacted us and immediately we stepped in, visited them and made sure we looked after their wellbeing. Within three weeks, we were able to repatriate them back to their country."
According to Eke, the seafarers welfare board has been providing a lot of social support to the traumatized seafarers and their families.
Speaking earlier, Chairman of the NSWB, Otunba Kunle Folarin commended the Greenview terminal Managing Director, Capt. Olugbenga Abidoye, for his immense contributions to the development of the maritime industry even as he solicited support for seafarers' welfare.
In his response, Capt. Abidoye who expressed displeasure at the plight of seafarers in Nigeria promised to render a helping hand to the NSWB as much as resources permit.
Copyright Ships & Ports Ltd. Permission to use quotations from this article is granted subject to appropriate credit given to www.shipsandports.com.ng as the source.