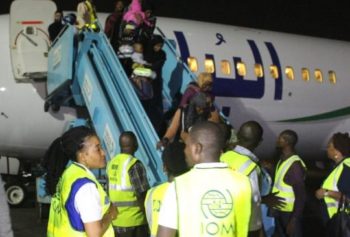 A batch of 160 repatriated Nigerian migrants from Libya arrived the Murtala Muhammed International Airport, Ikeja, late Thursday, the National Emergency Management Agency (NEMA) has said.
The Planning Officer of NEMA, Segun Afolayan, told reporters in Lagos on Friday that the migrants arrived at the Murtala Muhammed International Airport, Ikeja, at 9.45p.m.
He said that the migrants landed at the Cargo Wing of the airport aboard Libyan Airline flight with registration number 5A-DMG.
Afolayan disclosed that they were brought back with the assistance of the International Organisation for Migration (IOM) after profiling.
The repatriated migrants comprised of seven female adults and 153 males.
Afolayan urged them to put their experiences in the volatile North African country behind them and forge ahead with their lives.
He said, "They have another opportunity to make a new start of posterity and abundance. Nobody can tell it better than them that there are no greener pastures elsewhere.
"The best option is to live a dignified life, make their families happy and make the country proud by contributing their own quota."
He added that the federal and state governments and development partners should create a more conducive atmosphere where all Nigerians could prosper.