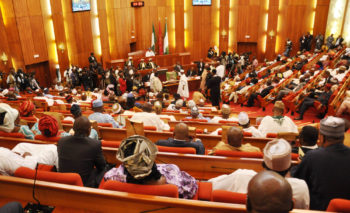 By Omotilewa Quadri 
The Senate ad-hoc committee investigating local content and cost variation on the $16 billion Egina deep sea oil project yesterday said that it has discovered that an unqualified firm, NOV Oil and Gas Nigeria Limited got a whopping N50 billion contract from Total Upstream Nigeria Limited.
The committee said that this is contrary to the Nigeria Oil and Gas Industry Content Development (NOGICD) Act of 2010.
It said that the discovery was made when the Managing Director of NOV Oil and Gas Nigeria Limited, Bertrand Huet, appeared before the committee to brief it on its initially awarded contract from Total Upstream Nigeria Limited of $163 million.
It said that the contract was later varied to $200million (N50billion).
Chairman of the committee, Senator Solomon Adeola in a statement by his Media Adviser, Chief Kayode Odunaro, noted that in course of questioning on the basis of document submitted by the company, Total Upstream, NAPIMS and Nigerian Content Development Monitoring Development Board (NCDMB), it was admitted by Huet, a French citizen that that he solely owned the company without any shareholding for by Nigerian.
Adeola said that the fact admitted by Huet "completely disqualified the company from getting such contract in the oil and gas sector of the Nigerian economy."
He noted that by the NOGICD Act of 2010 all such companies operating in Nigeria oil and gas sector must have a shareholding of 51% for Nigerians and 49% for others to be given approval by NCDMB, the regulatory body on Local Content law.
Adeola (Lagos West) stated that the company that got a whopping N50 billion contract is a one-man business solely owned by the Managing Director.
He said that it was also discovered that the company was solely incorporated to corner some aspects of the Egina project that should have been done by Nigerians.
Adeola said, "There is need to unveil the true identity of NOV Oil and Gas and its operations in Nigeria. Once that is done to ascertain that the company has not breached Nigeria laws in its ownership structure, we can then go into the suspicious variation of its contract from $163 million to $202million and related matter of non adherence to Local Content law that denied Nigerian opportunity for training, capacity building and transfer of technology."
Adeola insisted that as representative of the people, "members of the committee will not allow any foreigner to do what they cannot do in their countries in Nigeria or to engage in practices that do not meet international best practices thereby shortchanging the people of Nigeria and Nigerians."
Adeola also said that two similar companies AVEON, and GILS Automation engaged in the Egina Project that were billed to appear before the committee but refused risked having their chief executives arrested if they refuse to show up in the next 24 hours.
He said that non appearance after being duly invited indicates they have something to hide in the Egina Project.
"The companies should not allow the Senate to invoke Sections 88 and 89 of the 1999 Constitution of the Federal Republic to order for a warrant of the arrest of the chief executives of these companies." Adeola said.
He directed the executive secretary of NCDMB to stop all dealings and approvals for the companies pending their appearance before the committee.  
Copyright Ships & Ports Ltd. Permission to use quotations from this article is granted subject to appropriate credit given to www.shipsandports.com.ng as the source.