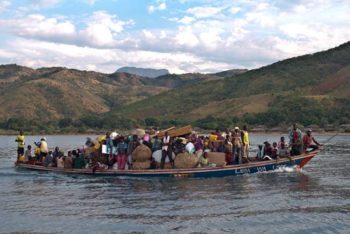 17 civilian bodies that were fleeing violence in the troubled North Kivu province of the Democratic Republic of Congo were found in Lake Edward, a local official said on Tuesday.
The civilians "drowned trying to flee clashes between the Mai-Mai and soldiers from the Congolese armed forces," Joy Bokele, an official in the Lubero region, said.
The Mai-Mai are a self-described "self-defence" militia group.
They have been engaged since Sunday in "violent clashes" against Congolese soldiers in the lakeside village of Kyavinyonge, army spokesman Jules Tshikudi said.
At least seven people were killed, he said.
According to Justin Kyamakya, the civilians could have been onboard a dingy that capsized on Lake Edward.
"The dingy that capsized held between 28 and 30 passengers, most of them women and children," said 28-year-old Kyamakya, who said he got off the boat because there were too many people on it.
Lubero, in the eastern Great Lakes region near the border with Uganda, is about 270 kilometres (170 miles) north of Goma, the capital of North Kivu province.
The Mai-Mai first emerged as community self-defence groups formed on a mainly ethnic basis.
During the Second Congo War (1998-2003), groups like the Mai-Mai were armed by the distant Kinshasa authorities to help battle invading Ugandans and Rwandans, whom North Kivu communities regard as foreigners.
Rich in precious minerals, the east of the DRC has been unstable for 20 years. Several dozen local and foreign armed groups stand accused of serious rights abuses against civilians, such as rape, killings and abductions.
Fighting between these groups and the Congolese army has intensified since the beginning of the year in North Kivu and the neighbouring province of South Kivu.