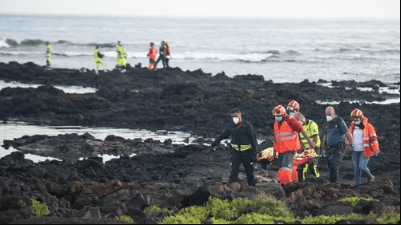 The bodies of 17 African migrants have been found in a small boat off Spain's Canary Islands, Europa Press news agency reported on Tuesday, citing officials.
Spain's maritime rescue service found only three survivors. The woman and two men were taken to hospital by helicopter.
The rescue cruiser Talia was en route, expected to reach the boat on Tuesday.
It had been discovered by a search plane the day before about 500 kilometres south of the island of Hierro.
The number of people who dare the life-threatening crossing from Africa across the Atlantic towards the Canaries rose sharply in 2020.
According to the UN refugee agency UNHCR, some 23,000 migrants reached the archipelago off the west coast of North Africa in 2020.
The trend has continued in 2021, since the beginning of the year, more than 2,300 people have arrived on the islands in small wooden boats.
It is not known how many people died at sea.
The UNHCR estimates that more than 400 people died in 2020.