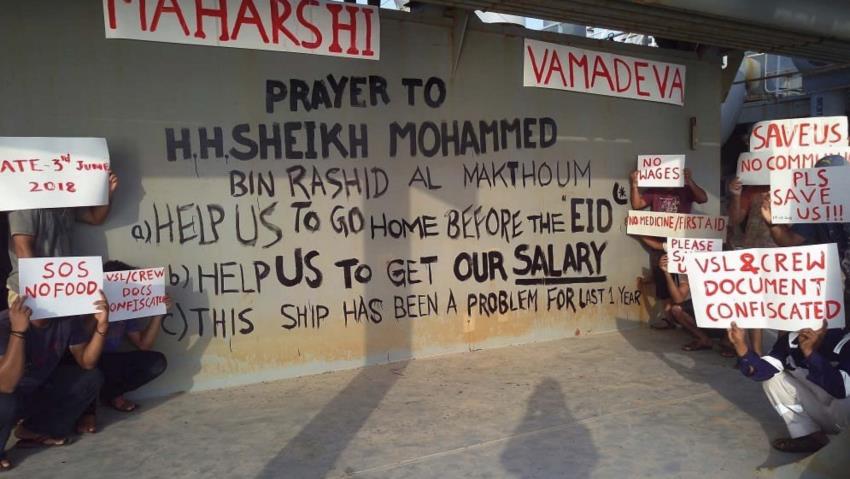 As many as 18 Indian seamen have been living in deplorable conditions for over six months after being stranded on a gas tanker off the coast of Fujairah.
After months of distress calls and repeated tweets to authorities – both in India and the UAE – the Fujairah Port and the Consulate General of India in Dubai have swung into action to bring them succor.
Two sailors are soon to be repatriated, while one ailing crew member has already been sent home. The remaining 15 crew members will continue to be on board the disputed vessel. The crew on the disputed LPG tanker Maharshi Vamadeva, an Indian vessel, has not been paid their wages since February this year. Few miles off the coast of Fujairah, the members have been living off charitable supplies provided by the Fujairah Port harbour master, port authorities and donations from other ships.
"One crew member, Jitendra Kumar Pandey (44) – an electrical officer – was repatriated as he suffered a heart attack on board in May this year. After receiving care from the Fujairah Port Medical Centre, he was sent back home to India," the ship's second officer, Vishwa Gupta, told Khaleej Times. Speaking from the port clinic, Gupta said: "Sailor Mohit Pal and I are currently in the port clinic, and we will return home in a couple of days."
With limited water, food, and medical supplies, the men have suffered severe weight loss of up to 10 to 15kg. "On some days, we had two loaves of bread and some water," said Gupta. There is no electricity on board as the men are not supplied with diesel to run the ship's generator. "We are not able to store any food," he explained.
Manohar Bharadan of the vessel's shipping agent Gulf Navigation, said: "We have been providing them with food whenever we can. We have been working with charities to collect emergency supplies for the men."
Disputed vessel
The vessel was reportedly detained by the Fujairah Port authorities over a year ago for alleged non-payment of dues by ship owner Varun Global, a company under liquidation due to bankruptcy. The present crew joined the vessel in February this year after the initial crew was evacuated following protests.
Besides, the UAE's Federal Transport Authority (FTA) had issued a circular banning any Varun Global ship from calling at any UAE port of anchoring until further notice. "Due to repeated cases of seafarer abandonment by Varun Resources in the recent years at UAE ports and waters, and the latest case of their ship (Maharshi Vamadeva) where the crew has been abandoned on board suffering from shortage in provisions and fuel as well as lack of medical care, and unpaid salaries and dues, all ships belonging to Varun Global are banned from calling on UAE waters until further notice," the circular said.
Gupta explained that the present crew is managed by Darya Shipping Agency, who has made statements to Indian media saying it would not be possible to retain any crew on board. He added that the ownership of the vessel, after liquidation of Varun Resources, was handed over to the State Bank of India.
As per reports published by the Press Trust of India (PTI), Darya Shipping Agency CEO Captain Rajesh Deshwal said the crew draws salaries ranging from Rs60,000 to Rs800,000 per month.
The company, Deshwal said, was made to sign a contract by the Insolvency Resolution Partner (IRP), appointed by the National Company Law Tribunal of India, to take over the insolvent company on behalf of the bank and manage all its activities.
"They asked us to take over a vessel, owned by State Bank of India which was the lead mortgagee bank for the vessel. We said we cannot unless we are paid. So the SBI called us, signed a contract and told us they will make regular payments. They made an initial remittance of around Rs10 million (Dh2,722,422), too. Once the crew was there, they stopped payment and said they wouldn't make any payment until the vessel is sold," Deshwal alleged.
At the time of print, the Consul General of India to Dubai was not available to make comments.
The seamen, led by the ship's captain Kumar Krishna, had decided to abandon the ship on July 31 after reportedly receiving a go-ahead from the Fujairah Port authorities. However, they were stopped by the Fujairah Coast Guard.
Source: Khaleej Times