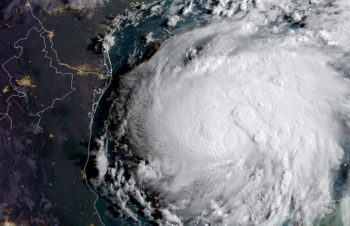 No fewer than 20,000 cruise ship passengers are stranded as Hurricane Harvey moved closer to the Texas coast on Friday and residents were warned to take shelter from 125 mile-per-hour winds and 12-foot ocean surges when the most powerful storm in over a decade slams the mainland United States.
The storm stranded about 20,000 passengers on three cruise ships in the Gulf of Mexico. Two were rerouted to New Orleans and a third will remain in Cozumel, Mexico, after the Galveston, Texas, port closed on Friday.
Harvey strengthened to a Category 4 hurricane, the National Hurricane Center said. The storm was expected to hit land near Corpus Christi, Texas, around 9 p.m. CDT (0200 GMT) then stall and dump over three feet of rain in areas of the Texas coast and parts of Louisiana as it lingers for days.
"We may be looking at unprecedented and major to record flooding," said forecaster John Tharp of Weather Decision Technologies, adding that flood warnings were in effect for Louisiana and northern Mexico.
Gasoline stations in the south Texas coast were running out of fuel as thousands of residents fled the region. U.S. gasoline prices spiked as the storm shut down 22 percent, or 377,000 barrels per day (bpd) of Gulf of Mexico oil production and halted 4.4 percent of U.S. refinery output, according to the U.S. government.
At a Willis, Texas, station, about 50 miles (77 km) north of Houston, Corey Martinez, 40, was heading to Dallas from his Corpus Christi home.
"It has been pretty stressful. We're just trying to get ahead of the storm," he said. "We've never been through a hurricane before."
As a Category 4 hurricane on the Saffir-Simpson scale, Harvey could bring winds of up to 156 miles per hour (251 km per hour), uproot trees, rip roofs off homes and disrupt utilities for days. If it maintains its intensity, it would be the first major hurricane to hit the mainland United States since Hurricane Wilma struck Florida in 2005.
The storm was about 45 miles (70 km) off Corpus Christi and packing winds of 130 mph (215 kph), the NHC said. The NHC's latest tracking model shows the storm sitting southwest of Houston for more than a day, giving the nation's fourth most populous city a double dose of rain and wind.
"Life-threatening and devastating flooding expected near the coast due to heavy rainfall and storm surge," the NHC said.
President Donald Trump on Friday tweeted: "I am closely watching the path and doings of Hurricane Harvey … BE SAFE!" Earlier, a White House official said the president was considering a request to issue an emergency declaration, providing federal disaster relief.
The storm's approach triggered evacuations in south Texas communities and central coast residents were voluntarily leaving the area. Cities canceled classes on Friday and Monday at dozens of schools along the south Texas coast, home to 5.8 million people from Corpus Christi to Galveston.
David Ramirez left his home in Corpus Christi early on Friday to wait out the storm in San Antonio, Texas.
"With the level of storm surge they're talking about, there isn't a lot I could do to protect my house," he said in an interview while awaiting directions to an emergency shelter.
Louisiana and Texas declared states of disaster, authorizing the use of state resources to prepare. Trump has been briefed and is ready to provide resources if needed, the White House said on Thursday.
The port of Houston, the nation's busiest petrochemical port, closed its terminals at noon, and earlier halted inbound and outbound ship traffic. The city of Houston warned residents of flooding from close to 20 inches of rain over several days.
Houston Mayor Sylvester Turner advised city residents not to leave en masse, saying "no evacuation orders have been issued for the city." Chaotic traffic from a rushed evacuation in 2005 with Hurricane Rita proved tragic. "Calm and care!" he said in a tweet.