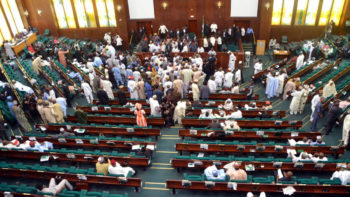 The 2017 Appropriation Bill passed by the National Assembly will galvanise economic growth and pull the country out of recession, Dr Abubakar Amuda-Kannike, member House of Representatives, has said.
Amuda-Kannike (APC-Oyo state), made the statement on Friday in Abuja in an interview in his reaction to the passage of the budget.
On Thursday, the National Assembly passed the 2017 Appropriation Bill of N7.44 trillion. The amount is N143 billion more than the N7.30 trillion budget presented to the legislature by President Muhammadu Buhari on Dec 14, 2016.
Amuda-Kannike said: "what is giving me the confidence that we are going to have a budget of recovery and development is the appropriation of the expected revenue.
"A good look at the budget will tell you that there is a departure from a situation where there is huge disparity between recurrent and capital projects value in the budget.
"This year, we are looking at a situation where 30 per cent of the budget will be for capital projects.
"Before now, we used to have about 60 per cent of our budget for recurrent expenditure.
"There was no proper focus on capital projects; there is no economy that will grow or recover if the government does not invest on capital projects.''
The legislator pointed out that the 2017 budget would not only address the huge infrastructural deficit in the country, it would also guarantee conducive environment crucial for economic activities to thrive.
"We had situations where manufacturers were moving out of Nigeria to neighbouring countries where the conditions were more encouraging which made Nigerians to loose their jobs.
"But now we are focusing on infrastructure and this will engineer growth.
"You will now see more roads are going to be constructed, we will have more power generation and electricity will become more constant and there is going to be more infrastructure,'' he added.
Speaking during plenary on Thursday, Rep. Mustapha Dawaki, chairman, House Committee on Appropriation, said the 2017 budget was increased by over N143 billion to cater for some critical sectors of the economy.
Dawaki explained that N10 billion was appropriated for the construction of the second Abuja runway.
He said that funds were also provided for the long abandoned Itakpe-Warri rail line.
"Others are funding for Ajaokuta airstrip, the inland water ways and increased funding for the amnesty programme in the Niger Delta to ensure stability in the region,'' he added.
He said that the expected additional revenue from increased benchmark price of crude oil from USD 42.50 to USD 44.50 and the under listed budgetary needs, prompted the committee to increase the budget to N7.44 trillion.
A breakdown of the budget showed that N2.1 trillion was appropriated for capital expenditure and N2.9 trillion for recurrent expenditure.
The Ministry of Power, Works and Housing had the highest capital expenditure of N533 billion, the Federal Ministry of Agriculture and Rural Development got N103.7 billion while the Ministry of Education got N56.7 billion.
We pay for your stories! Do you have a story for Ships & Ports? Email us at [email protected] or call 0810 359 4873. You can also WhatsApp us here. We pay for videos too.

 

Copyright Ships & Ports Ltd. Permission to use quotations from this article is granted subject to appropriate credit given to www.shipsandports.com.ng as the source.