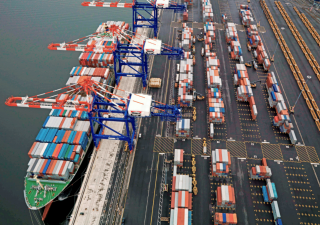 By Jite Eriabie  
Cargo moving through Canada's Port of Prince Rupert rose to a record volume of 24.1 million tonnes in 2017, anchored by 26% growth in its intermodal container business and growth of dry bulk cargo volumes.
Overall tonnage through the port was up 28% from 2016, and exceeds the previous record high of 23 million tonnes set in 2013.
"The increasingly diversified nature of the gateway, combined with terminal expansion and the introduction of new logistics services, is paying dividends to Canadians," Bud Smith, Chair of the Prince Rupert Port Authority, said.
"The Port of Prince Rupert remains well-positioned to accommodate growth of Canadian trade in the Asia-Pacific region, and we continue to advance expansion that will see us become Canada's second largest port by volume in the next decade."
During the year, expansion works at the port's Fairview Container Terminal were completed, boosting the annual throughput capacity by 60% as the terminal moved 926,540 TEUs in 2017.
Additionally, the bulk-handling facility at Ridley Terminals, specializing in the shipment of steel-making coal from Northeastern British Columbia, saw total shipments rebound to 7.6 million tonnes, a 90% increase over 2016 volumes.
The port's Prince Rupert Grain Terminal saw a slight decrease of 6% based on lower volumes of wheat, but exceeded a total of 5 million tonnes for the fifth straight year, while the port's Westview Terminal recorded a rise in biofuel volumes.
Furthermore, cruise passengers arriving in Prince Rupert through the Northland Cruise Terminal more than doubled to over 16,000 visitors on 25 cruise ship visits.
"The strength of the port's performance last year is a further validation of the Port of Prince Rupert's strategic advantages and the effective collaboration of our partners who operate the terminals, trains, trucks and other trade-related businesses across the northern corridor," Joe Rektor, Interim President & CEO of the Prince Rupert Port Authority, said. 
Copyright Ships & Ports Ltd. Permission to use quotations from this article is granted subject to appropriate credit given to www.shipsandports.com.ng as the source.