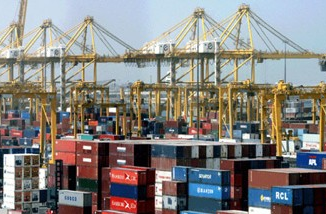 The Chairman, Shipping Association of Nigeria (SAN), Mr. Val Osifoh, has said that the maritime industry did not had much to cheer about in 2019, as the challenges of decaying ports infrastructure, insecurity, high cost and delay in cargo clearance at the ports persisted all trough the year. 
Speaking in a chat with SHIPS & PORTS, Usifoh said government had not paid sufficient attention to the sector despite its huge potentials.
He said owning to unfriendly business environment, poor port access roads and insecurity, which increased cost of cargo clearance, most shippers diverted their cargoes to neighbouring ports with huge revenue loss to the government.
"Government seems not to be sufficiently focusing on the critical area that needs aid. Their excuse may be that there is no money, but money will not fall from heaven, neither can we continue to develop by borrowing money from others who made sacrifices to safe this money.
"Our capital investment in critical areas is not negative but it is very marginal, and that is why it does not have any impact. These are the things that affect security amongst other challenges in the sector. We are in a serious situation but the politics around it seems to be clouding the bold efforts to tackle the problems headlong.
"The infrastructural problem generally has virtually crippled the major ports at Apapa and Tin Can. If the roads are not moving, the cargo cannot move. Emphasis on maximizing revenue instead of easing business is also causing very serious friction in terms of efficient and quick clearance of cargo at the port. This means everything added together made cargo clearance expensive. I don't see any quick fix. The only quick fix is for everybody to put their acts together.
"Other ports in neighbouring countries are smiling because the ports are relatively more efficient with deeper waters where big ships can come and are business friendly. But here in Nigeria, there is overregulation, and unfortunately for Nigeria, shipping is seen as a cash cow and instead of government being more active, they want to tax people out of their business particularly importers, exporters, clearing agents, and all the critical stakeholders in the industry. So operation in the sector is not cheering," the senior maritime practitioner said. 
Usifoh also frowned at the huge concentration on Lagos ports, urging the government to ensure seaports in other parts of the country are functional as well as provide adequate security so that shippers could patronise them. This, he said would help decongest the Apapa and Tin Can Island ports and ease the traffic gridlock.   
"Although government is trying to fix the road but the demand on Lagos ports, to me, is not sensible. 
"For shipowners, security is a major issue and quick clearance of cargo at the port. Right now, many ships are waiting to berth at Apapa. Because other ports in Lagos are not dredged, shippers prefer to come to Lagos because it is reasonably secured despite the slow dispatch of vessels and cargo from the port.
"Government should find a way of attracting cargo to other ports. Why can't they attract cargo to the ports? If the ports are dredged and the security situation is seriously worked out, with the support of a sub-regional maritime force to parade the maritime gulf, then shippers would patronise ports outside Lagos. Until those things are sorted out, I don't see any medium term solution to the problem we are in now. 
"Moving everything by road too is not the answer. Rail development is just a one-lane issue and it will take time. We need to connect all the ports to the major states capital.
 "The Shippers Council is doing well by creating inland ports but until there is good interconnectivity between the federal and state governments, and each playing their part, the shipping industry will continue to suffer," Mr. Usifoh added.