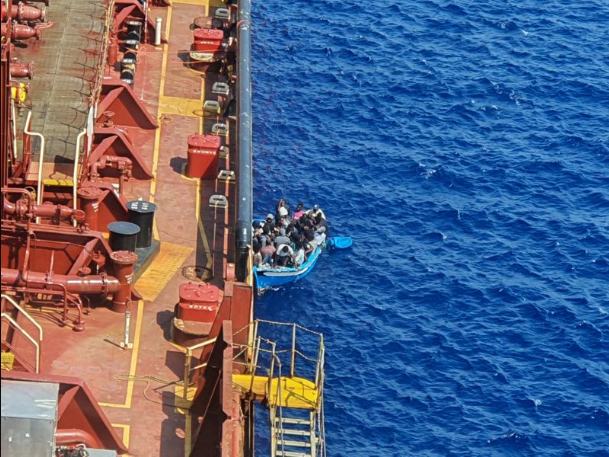 The situation onboard Maersk Etienne, a tanker owned by Maersk Tankers that rescued 27 migrants from Tunisian waters on August 4, escalated over the weekend with three migrants jumping overboard.
The tanker shipping company said on September 6 that the three persons were recovered quickly from the water by the captain and the crew, adding that they were being provided with the necessary care on board the vessel.
"The incident comes after the migrants have been left stranded on the ship for over a month, following the responsible authorities' failed attempt to find a solution to safely disembark them.
"We continue to plead for urgent humanitarian assistance for the 27 people onboard the Maersk Etienne and ask that they are immediately given the attention and care they need," the company said. 
The 27 people rescued on August 4 include a pregnant woman and at least one minor.
The company has been calling for weeks for the migrants to be disembarked as their supplies are depleting and the vessel is not equipped with the necessary amenities to provide accommodation and care for so many people.
Reports indicate that the rescued migrants are seen sleeping on the ship's deck.
The company's calls for quick resolution of the situation have not been met with understanding as Maltese authorities refuse to allow the ship to disembark migrants at its ports.
Maersk Tankers said that this was a new and unfortunate record for migrants held abroad a commercial ship. 
Over a month stuck on board a tanker vessel, the migrants are in a desperate situation and are even considering going back to sea, as disclosed in a letter to the ship's captain. 
Maltese authorities have been reluctant to allow the ship to dock and disembark the migrants amid heightened measures introduced by the country due to coronavirus as well as its position that it was being disproportionately affected by the migrant crisis.
Mediterranean states like Italy, Spain, and Malta have been under huge pressure in the past years due to a great inflow of migrants to their shores.