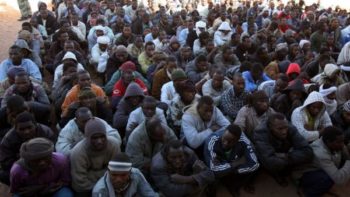 The Comptroller-General of  Nigeria Immigration Service, Mohammed Babandede has said that at least 30, 000 refugees are expected to migrate to Cross River State following the crisis in Southern Cameroon.
Babandede, on Wednesday in Calabar said out of the 40, 000 refugees expected to migrate to Nigeria as projected by the United Nations Refugee Agency, Cross River State is expected to play host to 30, 000 displaced persons.
Cross River shares boundary at different points with southern Cameroon. The Mfum border post in Etung Local Government Area of the state was on September 28 shut by the Cameroonian authorities as a result of the escalating crisis.
However, Babandede, who was on a two-day visit to the state to access the situation on ground, told Governor Ben Ayade during a courtesy visit to the Government House in Calabar that 300 refugees have already been registered within the last few weeks.
He said that he was in Cross River State to ensure that adequate measures were put in place to properly register all the migrants that would be entering the country from the troubled Cameroonian region.
Babandede said, "You are aware of the crisis happening in the Nigeria-Cameroon border for which the UN Refugee Agency has projected 40, 000 refugees that will be coming to Nigeria and 30, 000 of them are likely to come in through Cross River State.
"Cameroon refugees should be well protected just as they did for us during the crisis period of Boko-Haram in the North- Eastern part of Nigeria. We are here to ensure safe security situation in the state during this period."
Receiving his guest, Governor Ayade said Nigeria has a duty to protect her Cameroonian neighbours in the period of crisis.
Ayade, however, charged the country to change its visa policy through the introduction of visa-free entry to Nigeria from all African countries.
"Going by the estimation you have given from the UN Refugee Agency, about 40, 000 refugees will be coming into Nigeria. We have a duty to cater for the needs of our Cameroonian brothers and I think the Immigration has a big responsibility here.