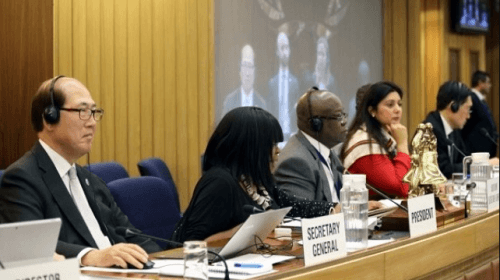 The Secretary-General of the International Maritime Organization (IMO), Kitack Lim, has opened the Organization's 31st Assembly session, calling for concrete action to address climate change and other challenges.
"In so many areas, we are now at a crossroads. In the next biennium, IMO will need to deliver tangible and concrete action – to ensure our strategies, plans and roadmaps are achieved. I am confident that, together, we can succeed," Lim said.
"While we always have to – and will – deliver on the mission of IMO to ensure maritime safety and security, environmental protection and the efficiency of shipping, we are also facing key challenges, such as the tangible threats from climate change, a universal effort to steer our world into a future of sustainable development, the increasing benefits and risks from digitalization and the need to preserve our oceans," Secretary-General Lim told the packed plenary hall at IMO Headquarters in London. "The shipping industry is going through fundamental changes as it responds to these challenges."
More than 1,700 delegates from IMO Member States, international governmental and non-governmental organizations have registered to attend the 31st session of the IMO Assembly holding from 25 November to 4 December 2019.
Lim highlighted the efforts made by IMO Member States and all stakeholders to pave the way for a harmonized and smooth entry into force of the global sulphur limit, referred to as "IMO 2020". This will cut sulphur oxide emissions from ships substantially. "I am sure that, in 2020, all of you will continue to support our efforts and cooperation to ensure the smooth implementation of this important, global regulatory standard," he said. 
The Assembly elected Ms. Nomatemba Tambo, High Commissioner of South Africa to the United Kingdom as its President while Ms. Enna Park, Permanent Representative of the Republic of Korea to IMO was elected 1st Vice President. Ivan Romero-Martinez, Permanent Representative of Honduras to IMO was elected 2nd Vice President.  
The IMO General Assembly normally meets once every two years in regular session. It is responsible for approving the work programme, voting the budget and determining the financial arrangements of the organization. It also elects the organization's 40-member Council.