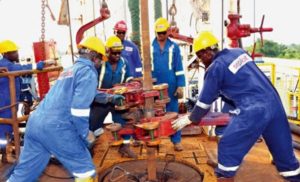 The Nigerian Association of Petroleum Explorationists (NAPE) has expressed confidence that the Federal Government has the capacity to achieve 40 billion barrels of oil reserve projected for 2020.
The association's President, Abiodun Adesanya, who stated this, said the Federal Government's Economic Recovery and Growth Plan (ERGP) target was to restore oil production to 2.2 million barrels per day (mbpd) in 2017.
He said that increasing it to 2.5 mbpd by 2020 could be achievable if monitored adequately.
According to him, "it is for all of us as stakeholders to work together, minimize the distraction and face the business of boosting the reserves production to 40 billion barrels.''
He explained that exploration successes in other African countries had put pressure on Nigeria as a competing destination for oil and gas investments.
According to him, there is an urgent need to examine the effectiveness of existing policies to drive growth in the oil and gas industry, as well as the development of roadmaps and new policy initiatives.
Adesanya said that NAPE was committed to providing other learning opportunities, including short courses and field trips to the carbonate sedimentation areas in the Eastern Dahomey Basin in South-West Nigeria.