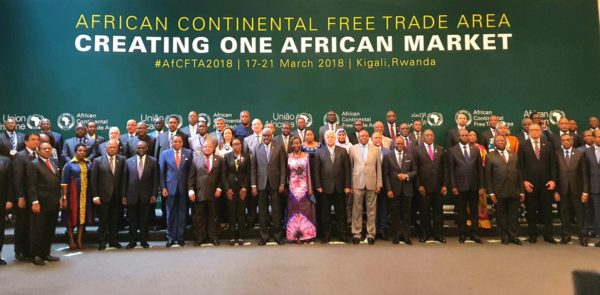 Leaders from 44 African countries on Wednesday signed an agreement to form a $2.5 trillion continental free-trade zone, but Nigeria and South Africa, the continent's largest economies, were absent.
The free-trade zone is the largest in the world since the creation of the World Trade Organisation in 1995.
Deliberations on the free-trade zone begun in 2015 and was originally projected to capture 55 countries.
At the African Union summit in Kigali, Rwanda, Paul Kagame, host president, declared the meeting a success after initial negotiations were concluded.
President Muhammadu Buhari had been initially scheduled to attend the summit and sign the agreement after the federal executive council gave its approval at its March 14 meeting.
The trip was cancelled on Sunday, March 18 and the presidency did not give a reason for the development.
On his part, Cyril Ramaphosa, South African president, said his country will join the agreement when the necessary legal processes are concluded.
"President Ramaphosa has undertaken that South Africa will become a signatory to the agreement once the legal and other instruments associated with (the trade bloc) are processed and ratified by South African stakeholders and parliament," he said.