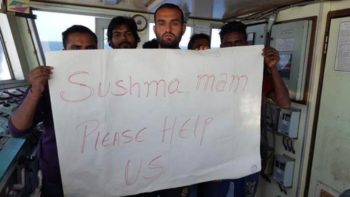 The summer ordeal seems to be easing for nearly 100 Indian sailors stranded in the UAE's waters, with half of them managing to fly home by Saturday.
As of July 1, a total of 97 Indian sailors were languishing aboard 22 ships in UAE's waters for several months.
Indian Consul General in Dubai Vipul on Sunday said that 53 of them had been sent back home so far.
"With the help of the FTA [the UAE's Federal Transport Authority] and by taking up issues directly with owners and agents, we have sent back the following number of sailors from the vessles: Sharjah Moon: 6 sailors, Iba: 6, Rojean: 11, Spirit: 9, Inchon: 3, Enjaz II: 3, Salem: 3, Sea Patrol: 3, Jude: 3, Shaker II: 2, Ocean Grace: 1, Ayah: 1, Sanad One: 1 and Sea Safe: 1 sailor," he said in a statement issued to Gulf News.
Five of them from MV Sharjah Moon, who left on Saturday, were the latest to fly home after persistent efforts of the mission in collaboration with local authorities, missions of flag countries like the Panama consulate and ship-owners.
In a report published on May 30, Gulf News also highlighted the plight of six Indians and one Sri Lankan aboard Sharjah Moon.
The crew had been at anchorage since July last year. Since they were not provided with food, water and fuel for several months, and their requests for signoff were not heeded by their company Alco Shipping, they docked the vessel in Sharjah's Hamriya Port without permission on May 9. They then sought the help of social worker Girish Pant to contact the Indian consulate.
While the mission provided them with provisions and managed to send back the ship's captain Jaiprakash Badri, who is from the north Indian state of Uttarakhand, on July 1, the five others had to wait.
Among them were 24-year-old Subith Sukumaran from Kerala, who had not seen his parents for three years, and Harendra Singh from Uttar Pradesh, whose father died last year while he was stranded on the vessel.
Before heading home, the sailors thanked the Indian mission and FTA for their efforts to rescue them. "The owner is yet to pay six months' salary, but we are not bothered about it since we just want to reach home at the earliest," Subith said.
Shantha Rajapaksha, the chief engineer from Sri Lanka, remains alone aboard the vessel as the company is yet to appoint someone to relieve him of his duties.
Sailors on three other vessels belonging to the same company are still waiting.
Pant said it is a good sign that the company had at least kept its promise to the FTA that it would start sending the sailors home by July 20.
"We hope that it will also keep its promise to send back 19 other crew members by the end of the month," he said. Source: GulfTimes 
Copyright Ships & Ports Ltd. Permission to use quotations from this article is granted subject to appropriate credit given to www.shipsandports.com.ng as the source.