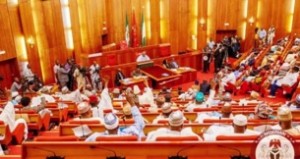 The Senate, on Tuesday, declined a request for the withdrawal of a petition against Chevron Nigeria Limited over alleged fraud amounting to $4,926,464,100.
According to the Chairman, Senate Committee on Ethics, Privileges and Public Petitions, Senator Samuel Anyanwu (Imo East), the petitioner, Dr. George Uboh of Panic Alert Security System wrote the committee, seeking the withdrawal of the petition filed before the panel.
Uboh had petitioned the Senate through Senator Obinna Ogba (Ebonyi Central) on December 15, 2015.
The committee, in its report on the case, which was considered at the plenary on Tuesday, recommended that the petition be withdrawn.
The report said Uboh and the Executive Director of Finance for Chevron, J. U. Uwakwe, appeared before the committee and made presentations.
Uboh, according to the report, had alleged that between 2001 and 2002, Chevron evaded tax amounting to over $343m through inflation of its operational costs under the Petroleum Profit Tax, using Carry Agreement with Nigeria National Petroleum Corporation as a cover, when such agreement never existed with the company.
The petitioner alleged that, "Chevron Nigeria Limited recouped spurious loan of $235m from the Nigerian federation between 2002 and 2005 for overdue cash calls; that Chevron conspired with some oil producing companies, NNPC auditors and defrauded the Federation of Nigeria by over $3.6bn by merely manipulating accounts and records, which were also done under the umbrella of Carry Agreements."
The panel, however, said in its report that the representative of Chevron, Uwakwe, denied that the oil company recouped spurious loans from the NNPC or from any other entity.
The representative was quoted as saying, "Chevron Nigeria Limited received Notice of Assessment for Education Tax, Education Tas Gas and Gas Income tax and later made payment of $38,259,021 via Citibank on 28th August, 2006, for the three assessments."
Anyanwu told the lawmakers that the committee was settling down to examine the submissions by Uboh and the respondent when the petitioner asked to withdraw his case.
The report said, "Consequently, the committee could not continue with the case, since the petitioner has given up on the matter. Based on the petitioner's decision to withdraw the case, the committee recommends that the case be stepped down."
But Senator Dino Melaye (Kogi West) kicked against the recommendation. He lamented that the withdrawal meant that the lawmakers had been made to waste their time and resources on the handling of the case.    
Copyright Ships & Ports Ltd. Permission to use quotations from this article is granted subject to appropriate credit given to www.shipsandports.com.ng as the source.