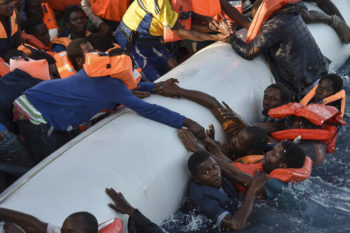 About 60 people are missing after the capsized migrant boat in the Mediterranean Sea, a spokesperson for the International Organisation for Migration (IOM) said on Friday.
Writing on Twitter, Flavio Di Giacomo said that 80 people, who disembarked in the south-eastern Italian port of Brindisi, told IOM staff that they were rescued after their boat capsized.
The boat, according to survivors, had about 140 people on board, meaning that about "60 migrants went missing,'' Di Giacomo said.
The IOM, a UN-affiliated agency, estimated that 2,169 people have died or gone missing since the start of the year while trying to reach Europe in Mediterranean Sea crossings.