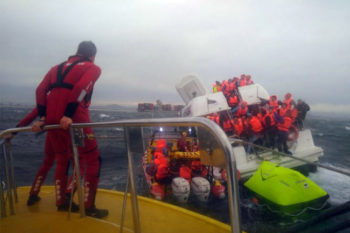 By Jite Eriabie 
68 passengers and crew members have been rescued from the Robben Island passenger ferry Thandi after the vessel started to list off Table Bay, South Africa.
The incident occurred on September 15, according to a statement issued by the National Sea Rescue Institute (NSRI).
Quentin Botha, NSRI Table Bay Station Commander, said that the duty crew were activated by the Transnet National Ports Authority (TNPA) following a Mayday distress call from the ferry reporting to be taking water.
A number of vessels and helicopters were launched to assist the rescue operation.
Upon their arrival on the scene, the ferry was found to be listing to one side from water intake. 
Some of the passengers were found to be in life rafts and the remaining crew and passengers were on the deck of the ferry.
All passengers and crew of Thandi were transferred by NSRI onto another passenger ferry, Madiba 1, and onto NSRI's Spirit of Vodacom and safely taken to the Port of Table Bay. At the port, the passengers were assessed by paramedics, with a few of them treated for mild hypothermia.
One passenger from Thandi and another one from Madiba 1 were transported to the hospital.
The ship Thandi was towed to Murray's Bay harbor at Robben Island. Water was pumped out of the ferry which was re-floated and secured to a berthing.
South African Maritime Safety Authority (SAMSA) was alerted and an investigation into the cause of the incident will be investigated, according to NSRI.   
Copyright Ships & Ports Ltd. Permission to use quotations from this article is granted subject to appropriate credit given to www.shipsandports.com.ng as the source.