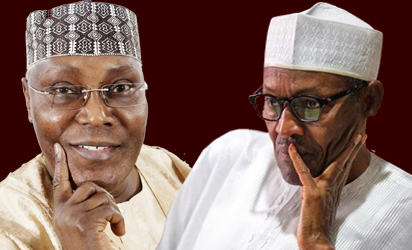 President Muhammadu Buhari and former Vice President Atiku Abubakar, both top contenders for the office of Nigeria's president in the February 2019 general elections, are not unaware of the need to pay quality attention to accelerated port development in the country.
Presidential flag bearer of the People's Democratic Party (PDP), Abubakar Atiku, said he would designate the Delta Port, Warri to service Abuja and its environs in the long term.
Atiku made this known in his 186-page policy document, which he unveiled on Monday. The document, which is focused on 18 priority areas, also lists modalities for the development of overall port efficiency in the country.
He said, "The Ajaokuta-Warri- Itakpe rail axis will be extended to Abuja so that Warri shall over the long term, become the port servicing Abuja. We would implement a vertically integrated railway privatisation (especially for freight-based railway), and improve freight-based rail efficiency."
The PDPD presidential hopeful also added that he intended to achieve an accelerated construction of up to 5,000 km of modern railway lines in the country.
Stakeholders and indigenes in Delta State have for decades lamented the redundancy of the Delta Port.
The redundancy of the port has been blamed for the low drive of agricultural exports in the Niger Delta region.
Shipping activities in the area have remained comatose over the shallowness of the Escravos channel, which does not allow for the passage of ocean going vessels.
At the moment, a N13 billion contract, approved by the Federal Government for the dredging of the channel, is the subject of a Senate investigative panel, following allegations of a bribe-for-contract scandal.
Other areas highlighted in the Atiku policy document for maritime development include improving existing port efficiency and achieving accelerated development of alternative container ports especially inland dry ports; undertaking immediate operational improvements to significantly decongest Lagos ports and defining timelines for completion of concessions granted for inland/dry port development.
President Muhammadu Buhari, presidential flagbearer of the All Progressives' Congress (APC) on the other hand, focuses on the Ease of Doing Business in his 14-page policy document.
The policy document, titled Next Level, is based on seven priority areas which include health, inclusion in government, entrepreneur bank, government policy, people moni bank, power, infrastructure and jobs.
Outlining his plans for maritime development, Buhari said, "In spite of the crash in oil prices, diminished oil production, and reduced revenues, we kept most of our promises. Moving forward, in the area of Ease of Doing Business, we will legislate and enforce deadlines for issuance of government licences and permits.
"In addition, we would also ensure the completion of the Lagos-Calabar coastal rail project and simplify investments procedures such as customs, immigration, trade and production procedures."