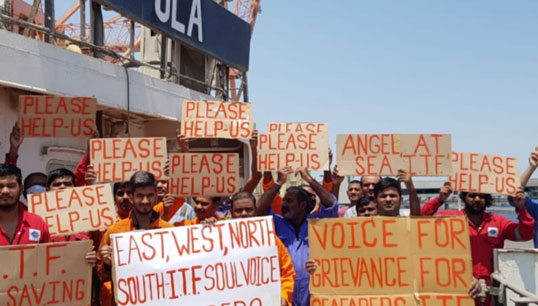 The crew of a Qatari-owned ship has launched a hunger strike after 11 months without pay and more than a year abandoned on board the vessel, according to the International Transport Workers' Federation (ITF).
The ship, identified as the MV Ula, is currently in the Kuwaiti port of Shuaiba with 19 crew members from India, Turkey, Azerbaijan and Bangladesh. The seafarers have all refused meals since January 7, resulting in six of them having to be admitted to the hospital only to again return to the ship.
"The crew have been on board the vessel for 14 months – some for longer than 19 months. One has been 26 months on board. They are asking Kuwait to replace them with local crew, so that they can go home to their families." said Mohamed Arrachedi, ITF Arab World and Iran Network Coordinator. "They have not been paid for 11 months."
The ITF has been attempting for more than a year to chase down the ship's owner, identified as Aswan Trading and Contracting, and its insurer to cover the wages and other responsibilities to the crew. It has also sought help from the ship's flag state, Palau, but to no avail. The ITF says Palau actually terminated the ship's registration in September 2020 with the crew demands unresolved.
"Since the ship is now flagless, it is left up to the Kuwaiti maritime authorities to resolve the situation. Kuwait has a legal and moral responsibility to save these seafarers while there is still time. As always, the ITF is on standby to assist in any way we can. To be on hunger strike since 7 January is very serious and requires urgent action.
"Lives are at risk. We believe the Kuwaiti authorities have sufficient instruments to take the exceptional steps needed to ensure the crew are paid and repatriated. The ITF is on standby to assist in any way we can," Arrachedi said.