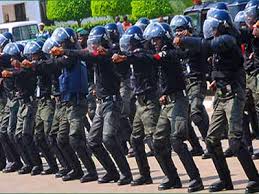 Leaders of the Abonnema community, Akuku-Toru Local Government Area Rivers State have said that they have no hand in the death of four marine police officers whose remains were found floating on Abonnema Wharf, last week.
Leaders of the community said the corpses were not recovered in Abonnema community, as was reported, but at Abonnema Wharf, which is in a different local government area.
Assistant Secretary of Abonnema Council of Chiefs, Chief Okis Bobmanuel, who spoke in Port Harcourt, stated that Abonnema Wharf is located in Port Harcourt City local government and not part of Akuku-Toru local government area.
He disclosed that the mix up caused panic in Abonnema community, regretting that the people were being misrepresented.
"The attention of the Abonema Council of Chiefs has been drawn to yet another malicious and misleading media publication that four marine policemen were murdered in Abonnema, Akuku-Toru local government area.
"It may interest you to know that this is not the first time Abonnema community has been negatively portrayed in the eyes of the public for a crime that never occurred in the area and in reality, these reports smack of evil and one may ask what the motive behind such publications is.
"The condemnable crime that occurred in far away Port Harcourt City LGA being transposed to Akuku Toru LGA and labeled Abonnema, to say the least, is a great injustice and misrepresentation of Abonnema community. Such unpleasant news about Abonnema community is disheartening and disappointing.
"As responsible custodians of the tradition of the people of Abonnema, we would relentlessly offer our unreserved cooperation and support to the security  agencies in the state and government to nip in the bud any form of crime in the community, this we have sworn to do regardless whose ox was gored.
"As such, Abonnema Council of Chiefs urges the reading and  listening public and security agencies in the state to know that our community is peace- loving, accommodating and cooperative with security agencies and the government.
"In the mean time, as a responsible council of chiefs, we join other well meaning Nigerians to genuinely sympathize with Rivers State Police Command and the families of these gallant officers over the loss of their beloved ones. But, we will still continue to see and regard the publications as being spurious until justice is done," they said.