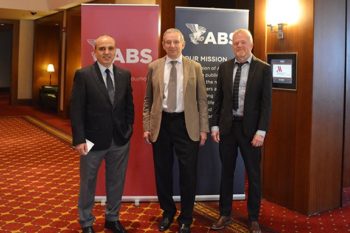 Despite all the talk of autonomous or semi-autonomous vessels classification society ABS says it is seeing no demand for such ships from owners, and is instead focusing on technological developments for the world's existing fleet.
"We have not seen any company that says we want to make our ships autonomous," Jan O De Kat, technical director global marine for ABS said at a media briefing.
He said that what shipowners were looking for was to have sustainable and profitable businesses.
"Ship operators will not push for this unless they see a clear advantage be that strategic or financial," he said.
While crew costs were significant, they are not the largest cost of running a ship and while there were savings to be made from autonomous operations these could be offset by other costs relating to that operation. There was also the question of communicating the vast amount of data that would be required for truly autonomous operations.
It was a very similar message from Egil C. Legland, country manager of ABS Norway who said, "We need to ignore the hype that is going on at the moment and focus on the reality."
He said it would take a generation of ships or more before vessels became fully autonomous and they needed to work with a large existing fleet.
"That means we have to deal with the issues that owners are really looking at – managing costs, improving productivity, and creating value, as well as thinking about the future. We are taking elements of that future and bringing them together to enable new technologies to be used safely and efficiently," Legland said.
"Above all our main aim is help our owners to navigate the changes towards the future."
Demonstrating practical solutions ABS showed an example of wearable technology (pictured) where remote support could be provided to a surveyor with the person back in the office being able to see exactly what the surveyor sees and interact with them. Going beyond this example where technology helps the human in the equation with the use of drones for surveys.
ABS Nautical Systems has also launched NS Voyage Manager to simplify compliance reporting such as European Union (EU) Monitoring, Reporting and Verification (MRV) regulation for CO2 emissions.
"With EU MRV already in effect and additional regulations on the horizon, such as the International Maritime Organization's Data Collection System requirement, operators need an easy way to manage the increasing volume of data required for reporting," said ABS chief technology officer and ABS Nautical Systems president Howard Fireman. "NS Voyage Manager is deployed quickly and accurately to collect data that supports regulatory compliance."
Copyright Ships & Ports Ltd. Permission to use quotations from this article is granted subject to appropriate credit given to www.shipsandports.com.ng as the source.