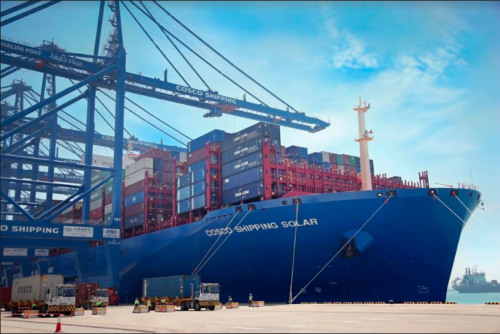 CSP Abu Dhabi Terminal, a container terminal built and operated by China's COSCO SHIPPING Ports Limited (CSP) at Khalifa Port in partnership with Abu Dhabi Ports, has received two of the world's largest mega-vessels within less than a month – cementing Abu Dhabi's position as a global maritime hub.
The ships – MV COSCO SHIPPING SOLAR and PISCES – are the third and fourth main line vessels to pass through CSP Abu Dhabi Terminal since it started trial operations in 20 April 2019. They follow the arrival of MV CSCL Mercury, a Chinese container ship with a capacity of 14,000 TEU, on 20 April 2019, and MV CSCL Globe, which arrived on 27 April 2019 with a capacity of 19,000 TEU.
With a capacity of 21,000 TEU, SOLAR, which arrived on May 25, is the largest ship ever to call at Khalifa Port. The PISCES, which called on May 5, held the same accolade for just under three weeks with its capacity of 20,000 TEUS. The arrival of the ships, which started their journeys from Qingdao in China, highlights Abu Dhabi's position as a major trade hub along China's Belt and Road Initiative (BRI).
Speaking on the development, he CEO of Abu Dhabi Ports, Captain Mohamed Juma Al Shamisi, said, "The arrival of both the MV. COSCO SHIPPING SOLAR and PISCES is a milestone moment for Abu Dhabi Ports and its partner, CSP. Not only does it demonstrate our growth as a hub port in the region, but also our position as the heart of COSCO's network in the Middle East.
"The container industry is constantly looking for ways to improve efficiency, and the use of mega-vessels to cut costs and time is a trend shaping the future of the sector. We have ensured that through CSP Abu Dhabi Terminal, Khalifa Port is able to handle the largest vessels of today and adapt to those of tomorrow."
Also speaking, the CEO of CSP Abu Dhabi Terminal, Captain Ju Weiping, said, "We are excited to facilitate the arrival of two of the world's largest mega-vessels at CSP Abu Dhabi Terminal as it demonstrates the strength of our partnership with Abu Dhabi Ports. The terminal has been built to accommodate the evolution of trade in an increasingly competitive global economy; applying the latest port technologies to improve efficiencies, reduce calling times, and ultimately deliver a competitive edge to our customers. We are proud to contribute to facilitating trade in the region and look forward to welcoming further large-scale vessels over the coming years."
Abu Dhabi Ports is the operator and manager of the Emirate's commercial and community ports, as well as Khalifa Industrial Zone (KIZAD). The CSP Abu Dhabi Terminal, which was inaugurated in December, connects Khalifa Port to CSP's global terminal portfolio covering 285 berths at 37 ports worldwide.