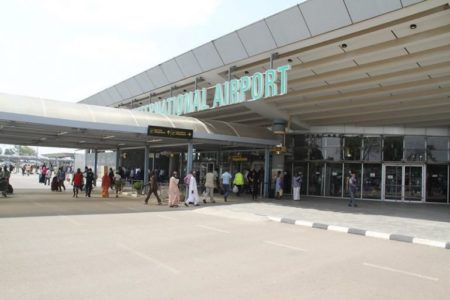 The Federal Airports Authority of Nigeria (FAAN) said a total of 3.36 million passengers travelled through the Nnamdi Azikiwe International Airport (NAIA), Abuja between January and September.
FAAN disclosed this in its 2018 Passengers Traffic Statistics obtained on Tuesday in Abuja.
The report showed that a total of 2.6 million people travelled locally (domestic) while 689,388 passengers were recorded on the international wing during the period.
It also showed that while 1.36 million passengers were recorded on domestic arrivals, 1.30 million departed through the airport within the period.
According to FAAN, 340,171 international passengers arrived at the airport, while 349,217 passengers travelled out of the country through NAIA during the period.
The quarterly breakdown showed that 1.02 million passengers travelled during the first quarter; 1.1 million in the second quarter and 1.23 million in the third quarter.
The monthly breakdown revealed that 339,452 passengers travelled through the airport in January, comprising of 263,625 domestic and 75,827 international passengers.
In February, 303,571 passengers comprising of 248,863 domestic and 54,708 international passengers travelled, while 378,881 passengers comprising 309,571 domestic and 69,310 international passengers were transported in March.
While a total of 397,058 passengers comprising of 317,282 domestic and 79,776 international passengers travelled in April, 364,419 comprising of 291,086 domestic and 73,333 international passengers were recorded in May.
In June, 348,269 passengers comprising of 271,543 domestic and 76,726 international passengers were moved while 394,340 passengers consisting of 308,069 domestic and 86,271 international passengers travelled through NAIA in July.
The statistics further showed that while 434,358 comprising of 341,598 domestic and 92,760 international passengers were recorded in August, 403,400 passengers comprising of 322,723 domestic and 80,677 international passengers were transported in September. 
Copyright Ships & Ports Ltd. Permission to use quotations from this article is granted subject to appropriate credit given to www.shipsandports.com.ng as the source.