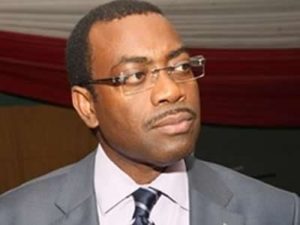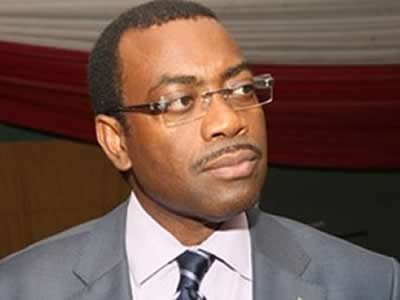 The President of African Development Bank (AfDB), Dr Akinwumi Adesina, has disclosed that the bank achieved its highest annual disbursement ever of $7.67 billion on supports, in 2017.
He made this known in a statement made available to newsmen on Thursday in Abuja.
Adesina said that AfDB would continue to support African countries in ensuring stronger macroeconomic policies.
"The bank achieved its highest annual disbursement ever in its history, at $7.67 billion.
"Our investment in the energy sector in 2017 covered 31 operations in 23 countries and totaled $1.39 billion, representing a 30 percent increase over 2016.
" In 2017, the bank maintained its AAA rating with stable outlook by all four global rating agencies.
"The bank's AAA stable outlook rating is underpinned by sound financial and risk management policies, excellent liquidity and strong shareholder support," Adesina said.
The President added that the bank was working hard to be more efficient and become impact driven organisation; one that accelerated Africa's development, holding itself to a higher standard of performance.
He said that it was only when the bank became performance driven that it could meet Africa's expectations.
Adesina assured that the bank intended to score a lot more development goals for Africa, adding that there was the need for greater alignment, performance and accountability for results.
He said that the bank launched its largest bond transaction with $2.5 billion three-year global benchmark followed by its largest ever five-year global benchmark for $2 billion.
According to the President, the bank continues to grow its income solidly, reversing its declining income when he started two years ago.
He disclosed that the net operating income of the bank had declined from $589.3 million in 2014 to $492.7 million in 2015, when he took over, adding that ever since there had been a rapid turnaround.
"In 2016, the net operating income rose to $556.6 million and shot up to $855 million in 2017, an increase of almost 54 percent over 2016.
" To put things in context, this is also a 73 percent increase over where we were in 2015.
"The bank is mobilising more resources for Africa. In 2017, we mobilised $9.73 billion from the capital markets for African countries including $300 million from the enhanced private sector facility for Africa.
"I am delighted that in 2017, the bank helped leverage $6billion for the landmark Japan-Africa Energy Financing Facility.
"This will help accelerate efforts to light up and power Africa," Adesina said.
He said that the Bank was doing a lot on "Light Up and Power Africa agenda", adding that in 2017 it invested 1.39 billion dollars.
He added that the aim was to improve access to electricity to help generate an additional 1,400 MW of power and connect 3.8 million persons to electricity.
On renewable engergy, the President said that the bank was leading, adding that when he assumed office, the share of renewable energy in the bank total power portfolio was just 14 percent.