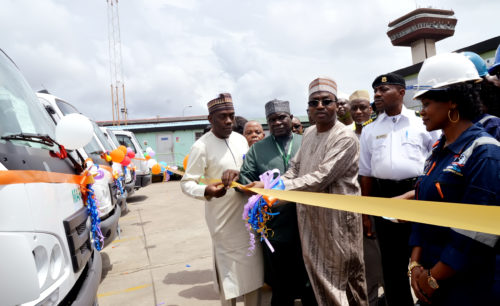 The management of African Circle Pollution Management Limited (ACPML) has unveiled 16 new modern trucks as part of efforts to effectively control solid waste pollution from ships and operations at the nation's port.
Unveiling the trucks at the Tin Can Island Port Complex, Apapa, in Lagos, Managing Director of NPA, Hadiza Bala Usman, commended the management of African Circle Pollution Management Limited (ACPML) for the strides it has made since it signed the Build, Operate and Transfer (BOT) agreement with the Federal Government.
Usman who was represented at the occasion by NPA General Manager, Security, Nasir Anas Mohammed, stated that the additional modern trucks the company has procured would go a long way in enhancing its operations in the months ahead.
The NPA helmsman who took time to test drive one of the trucks said the move would help Nigeria to meet the requirements of the IMO as regards the evacuation of waste generated by ships in Nigeria territorial waters.
The Acting Coordinating Officer, ACPML, Ahmadu Fidi Ahmadu, in his remarks said the firm procured the trucks in order meet the increase in the demands for its services over the years.
He said the trucks which are fitted with the latest technology features were manufactured by one the motor vehicle manufacturing giants, Mercedes Benz.
He added that the trucks in addition to the earlier ones procured by the company are expected to enhance the operations of the company in the nation's seaports situated in Lagos, Calabar, Port Harcourt, Warri and Onne.
He disclosed that while eight of the trucks would be used in the ports situated in Lagos, the other eight would be utilise in Onne Port Complex, Onne, Rivers State.
In her remarks, the District Manager, ACPML, Latifat Ibrahim stated that the firm has the support of the Federal Ministry of Transportation and the NPA in the discharge of its mandate.
While commending them for their support and co-operation over the years, she reiterated the readiness of ACPML to live up to expectations of stakeholders in its areas of operation.
The procurement of the trucks was in line with the requirements of Maritime Pollution (MARPOL) 73/78, one of the key guidelines of the global maritime watchdog, the International Maritime Organisation (IMO) which has its headquarters in London, United Kingdom.
With the provisions of MARPOL 73/78, the management of the Nigerian Ports Authority (NPA) is mandated by IMO to provide adequate waste reception facilities for waste generated in vessels calling in Nigerian ports.