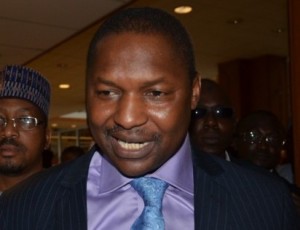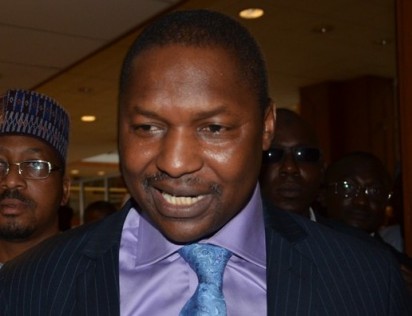 The Attorney General of the Federation, Abubakar Malami says the ministry would soon commence thorough investigation into the alleged misapplication funds accrued to oil producing communities in the Niger Delta region.
Malami gave the assurance on Thursday when the Itsekiri Regional Development Council (IRDC) led by Ogbebor of Warri Kingdom, Chief Lori Ogbebor paid him a save Our Soul (SOS) visit in his office.
The Attorney General who frowned at the level of deprivation and the alleged fraud going on in the area said he would order an immediate investigation and also ensure that all ongoing investigations about the payments and sharing of the accrued revenue to the affected communities are accorded due attention.
''We will receive your petition so that we can accord it the necessary attention. I can assure you that we will accord it all the necessary attention it deserves to unravel the circumstances surrounding the matter,'' he added.
Chief Ogbebor earlier in her address, accused leaders of Itsekiri community and other oil producing areas of manipulating and sharing the oil revenue accrued to the people without recourse to the law.
She also alleged that the government had been depriving the oil communities their due in the revenue sharing formula through the Delta State Oil Producing Area Development Commission, (DESOPADEC) contrary to the law establishing the agency.
She therefore appealed to the AGF to intervene in the matter by instituting a judicial enquiry to unravel the alleged misappropriation of the funds meant for the development of the affected communities.
She also reminded the AGF of the ongoing investigation of the matter by the Nigerian Police Force and series of court actions she instituted on behalf of her people and appealed to the AGF to hasten the concerned government agencies to step up the matter in order to ensure justice is done to the people.
''We are all aware of the life threatening incidents of oil exploration in the Niger Delta for which I am one of the leaders who fought and still fighting. Against the evil that the oil exploration has brought to our people.
''I am ashamed and sorry to say today that some of these financial provisions have not been well utilized to the benefit of our people in the rural areas.
'Chevron and Shell have signed different memoranda with us in the Warri Kingdom. For years, some of our leaders have manipulated, taken and shared the money among themselves with impunity,'' she alleged.
''I have personally witnessed the deaths of young people whom I was called to celebrate the day they were born. These men are callous and have no pity for their fellow human beings.
''I have spoken to them and for years they have gone from better to worse. In the last one year, I have decided to fight back by calling on the different agencies of anti-corruption to investigate and bring these people to book and in many cases, corruption have fought back,'' she added.