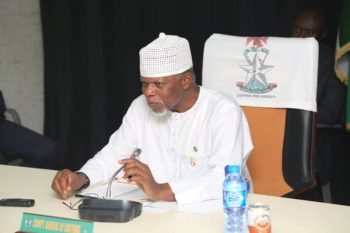 The promotion of 3,487 senior officers of the Nigeria Customs Service has come under criticism amid claims that it was based on bias and undue favour rather than on merit.
The promotion, which was approved by the Comptroller General of Customs, Hameed Ali according to a statement by the public relations officer of the NCS, Joseph Attah followed a presidential approval for the release of the ranks.
It was gathered that out of 90 officers in the rank of Deputy Comptroller who participated in the promotional exercise, only 17 were promoted to Comptroller while 27 out of over 100 were promoted from Assistant Comptroller to the rank of Deputy Comptroller.
Some of the aggrieved officers who spoke with SHIPS & PORTS DAILY in Lagos alleged that some of the officers who benefitted from the exercise influenced their promotion.
"I am not happy that this is happening to me seeing my fellow colleagues being decorated with their new ranks while we sat for the same exams. The promotion as far as I am concern is bias. If it is based on merit as they claim I will not still be wearing this rank for five years now. 
"The last one we did, they cancelled it, and this one came, yet nothing," the visibly aggrieved officer, who did not want his identity discloed, told SHIPS & PORTS DAILY.
Another officer, a Deputy Controller of Customs who also craved anonymity also condemned the exercise alleging that it was based on an unknown quota system.
Spokesman of the NCS, Attah in a swift reaction however debunked the allegation saying that there is no justifiable reason for any officer to raise eyebrows on the promotion exercise as it was based on merit
 "In every situation, if somebody did not get something, such person will not be happy but as far as this promotion is concern, it is so straight forward. It is clearly based on merit. An officer's state of origin, connection or whatever have nothing to play in this promotion.
"The whole exercise was based on the cumulative score from the examination, oral interview and performance evaluation form which were all added together. For example, if the vacant position is 30, they will only pick from the first 30 so there is just no basis for anybody to raise eyebrows. This is one promotion that is so straight forward there is no sentiment about it," Attah, who is one of the beneficiaries of the promotion exercise, told SHIPS & PORTS DAILY.  
Copyright 2017 Ships & Ports Ltd. Permission to use quotations from this article is granted subject to appropriate credit given to www.shipsandports.com.ng as the source.