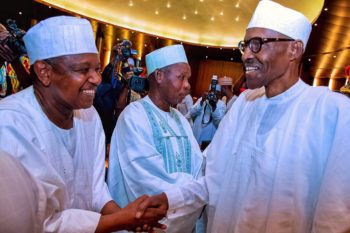 President Muhammadu Buhari has said the success recorded in agriculture across the states is due to the fact that Nigerians cannot afford to buy foreign foods.
The President made the observation while he was addressing state governors at the Presidential Villa, Abuja, on Friday.
He had attended a Jumaat service near his office earlier in the day.
Buhari commended the performance of the state governors, saying his observations was based on the information available to him through the media.
He praised them for their achievements, especially in agriculture and solid minerals.
"I am very pleased with the states; you are all doing your best and you are lucky your best is proving to be good enough on agriculture and solid minerals. You are succeeding in agriculture because, I think, people cannot afford foreign food," he said.
In response, the Ebonyi State Governor, Dave Umahi, thanked Buhari for his support to the states, saying without that, it would have been difficult for the state governors to cope.
He mentioned the budget support, Paris Club refunds and the agriculture sector support as some of the areas where Buhari had intervened.
"Without the assistance, it would have been difficult for us to cope. You have treated all governors equally, irrespective of party affiliation," the governor said.
Plateau State Governor, Simon Lalong, in an interview with State House correspondents, expressed joy about Buhari's return and prayed that God will continue to guide him.
"With him back, everything is taking shape again. This is not to say the Acting President was not doing well; we must commend him.
"In the absence of the President, there was no vacuum, because the Acting President filled the gap and did his best up to this moment and showed absolute loyalty, both to the nation and Mr. President," the governor said.
Kogi State Governor, Yahaya Bello, said the meeting afforded the governors the opportunity to welcome the President.
He said, "Our President went to take care of his heath and now, he is back, healthy and healthier than before.
"We are here to appreciate him. We thank Almighty God that he is back safely. We also thank his able lieutenant, Prof. Yemi Osinbajo, who held the country firm in his absence.
"That is the demonstration of team work. It has also shown that Nigerians selected the best and elected the best in 2015 general election and today, Nigeria is better for it," he said.