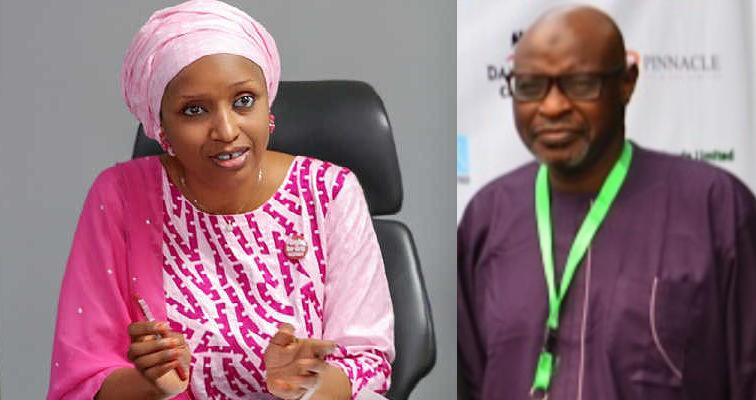 Ahmad Yakubu Wanka, a middle management staff at the Nigerian Ports Authority (NPA) is not a public figure but he is one person former NPA Managing Director, Hadiza Bala Usman, will not forget in a hurry.
It was Wanka that first raised a serious allegation of anomaly in Bala Usman's management style at NPA and went as far as writing petitions against her to the Board of the federal agency and to the Minister of Transportation.
For his audacity, he was posted out of the NPA headquarters to Warri port as "punishment".
In the petitions, Wanka did not mince words in accusing Bala Usman and her executive management team of "systemic marginalisation of a generation of officers", whereby a select group of officers were promoted over and above their seniors in flagrant violation of the provisions of NPA's conditions of service, civil service rules and due process.
Wanka's petition, it is believed, led the Federal Ministry of Transportation and the Presidency to beam the searchlight on Bala Usman's activities, which consequently led to a series of investigation and her eventual sack.
In his petition to the Minister of Transportation titled PROTEST ON THE RECENT ILLEGAL PROMOTION EXERCISE IN THE NIGERIAN PORTS AUTHORITY THAT WAS BASED PRINCIPALLY ON FAVOURITISM AND NEPOTISM and dated 18th September 2019, Wanka, who worked as a Principal Manager in the Public Private Partnership (PPP) Division, described himself as "a diligent and hardworking officer of the Nigerian Ports Authority with impeccable service records, having been in service for not less than 25 years."
He said while the appointment of the Executive Management team led by the erstwhile Managing Director was greeted with elation as the members were all new and impervious to the internal politics of NPA having come from outside the Authority, the team soon began to exhibit "its serial nepotic practices that hardwork, commitment and dedication to duty are and would no longer be rewarded", as career progression was based principally on relationships.
"However, as soon as the management settled down, we were abashed with rumours of dispositions and postings being determined by factors other than the Conditions of Service, to include friendships and other affinities. Lately, employment and promotions seemed to have been added to the inglorious mix. This affects morale, performance and is both unjust and inimical to decent conduct and industrial harmony.
"Currently, morale among the employees of the Authority is at its lowest ebb in recorded history because the Executive Management has exhibited by its serial nepotic practices that hardwork, commitment and dedication to duty are and would no longer (be) rewarded as career progression is based principally on relationships.
"Sometime in the year, particularly in early August, 2019, it was rumoured that the personal files of certain officers were being sought in Human Resources Division for purposes of promotion. This was being done with the ostensible authority and apparent approval of the Managing Director.
"After resuming from the sallah it became a fact that some officers were selected and promoted to the ranks of Senior and Principal Managers without:
a) Having spent a minimum of three (3) years on their previous rank, thus having no Performance Evaluation Assessment Reports for the previous three years;
b) Undergoing any written examination; and
c) Being interviewed by any interview panel.
"All the above are in direct contravention of the rules, regulations and policies that guide promotions in NPA.
"This selective promotion was done in favour of officers who I sat with for promotion interview in 2018. While they sat for and were promoted to Level 14, I sat for and was promoted to level 15. We were duly promoted to step 1 of our respective grade levels with effect from 1st January 2018. To my consternation however, part of the same people were selected and promoted in 2019 to level 15. I wrote a protest to the Chairman of the Board of Directors drawing his attention and that of the Board to this injustice and seeking the Board's intervention in the matter. Copy of my letter of protest dated 18th October 2019 is hereby attached and marked Annex A.
"However, in his reply, the Chairman urged that I should route my protest through the internal grievance mechanism in the Authority. Copy of the letter attached as Annex B.
"My understanding of Annex B is that the Board is either unable or unwilling to entertain my protest as an impartial arbiter. The internal grievance mechanism in the Authority in this kind of matter involve and would ultimately be determined by the Managing Director, Executive Director, Finance and Administration and the General Manager, Human Resources. These were the same people who wronged me, the same people who oppressed me, the same people who precipitated the chain of events that led to my protest," Wanka's petition reads in part.
The aggrieved official said by referring him back to those who wronged and oppressed him, the then NPA Board Chairman, Emmanuel Olajide Adesoye, was unwittingly making Bala Usman and Mohammed Bello-Koko judges in their own case, "and giving them the right to do as they wish with my matter, which contravened the globally accepted principle that a person should not be a judge in his own case."
"I therefore REFUSED to submit myself to them because they would not be fair and just to me," he stated.
Wanka said the selective and illegal promotions carried out by Bala Usman led to grumblings by employees and created a sort of disorder in the NPA system.
"Due to grumblings by employees and the general outcry against this selective exercise, we learnt that it was expanded to include other people beside the selected band. However, since it was neither systemic, justified, justifiable and properly done, the whole establishment system in the Authority has been messed up with subordinates being made to supersede their superiors overnight, without regards to any established precedence in the career progression of officers. To give it a semblance of regularity, the Human Resources Division was now invited to conclude the exercise since the objective of promoting the few selected favourites has obviously been met," he stated.
He said perhaps due to their relative inexperience in the public service coupled with their "fast, lucky, unscheduled and unimpeded rise to the top", neither Bala Usman nor Bello-Koko knew and appreciated what it felt like to be superseded overnight by one's subordinates for no reason other than nepotism and the proclivity to favour others at all cost.
"Added to this is the fact that they have found an ally and a willing partner in the General Manager, Human Resources who is so pliant to the extent that whenever they ask him to jump, he would ask how high, rather than why. That might have explained why they insisted on retaining him on contract even after retiring from service when there are other people that are eminently qualified and capable of holding the office of the General Manager, Human Resources still serving NPA.
"The Honourable Minister may wish to note that in my over 25 years of service, a lot of political appointees worked in NPA credibly and meritoriously, others not so. However, this is the first time that political appointees were unduly tampering with the careers of employees at will.
"What makes this ignoble action doubly unfortunate is not just the crass impunity and abrasive nepotism, but the fact that these same people were appointed by a President whose Government has as its central principle probity, fairness, justice, propriety, decency, legality, adherence to due process and compliance with applicable laws and extant regulations," he further stated.
Wanka stated that he was compelled to seek the Minister's intervention because he could not get fair hearing from the NPA system led by Bala Usman, "by reason of being shut out by the Board of Directors".
"I was left with no option but to escalate this matter beyond the Authority through the properly constituted and appropriate channels where I expect to be heard fairly and justly," he wrote.
On May 6, 2021 – a few months after Wanka's petition, Bala Usman was suspended from office by President Muhammadu Buhari for alleged financial infractions, disobedience to Presidential and Ministerial directives, alleged insubordination and disobedience to court orders. The President also approved the setting up a panel of inquiry to probe her tenure.
The administrative panel of enquiry had the Director of Maritime Services as Chairman while the Director, Organisation Design & Development in the Office of the Head of Civil Service of the Federation was Co-Chairman.
The panel was asked to examine and investigate the administrative policies and strategies adopted by Bala Usman and confirm compliance with extant laws and rules; examine and investigate compliance with the communication channel as obtained in the Public Service; and examine and investigate the procurement of contracts in the agency.
Whilst on suspension, the minority caucus in the House of Representatives had called on the Economic and Financial Crimes Commission (EFCC) to investigate Bala Usman.
On February 15, 2022, not long after the panel concluded its assignment, Bala Usman was sacked, and Mohammed Bello-Koko, who was NPA's Executive Director of Finance and Administration under Bala Usman, and who served as Acting Managing Director during her nine-month suspension, was appointed as the substantive Managing Director.
Copyright Ships & Ports Ltd. Permission to use quotations from this article is granted subject to appropriate credit given to www.shipsandports.com.ng as the source.