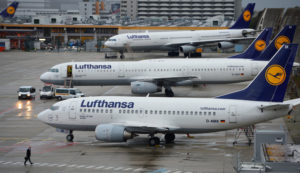 Airlines shouldn't be allowed to hide behind computer-based models when justifying higher fares, the head of the German cartel office said in an interview published on Thursday, as authorities review allegations of a recent spike in prices.
In November, the cartel office asked national airline Lufthansa for information on prices after receiving complaints about rising fares following the collapse of Air Berlin, Germany's second largest carrier.
Lufthansa said at the time it was cooperating fully with the cartel office and had not changed its pricing structures, which comprise up to 26 different fares per flight and were automatically determined by software.
"Such algorithms aren't written by god in the heavens," Andreas Mundt told the Sueddeutsche Zeitung newspaper. "Companies can't hide behind algorithms."
A Lufthansa spokesman said on Thursday the airline hadn't increased fares on domestic flights or flights within in Europe in more than a year.
He added the insolvency of Air Berlin had eliminated 100 planes and 60,000 seats a day.
"As a result, available flights are booked more quickly," he said. "It can be the case that with booking at short notice on some routes that only relatively more expensive booking classes are available."
Lufthansa's Chief Executive, Carsten Spohr, addressed the cartel office investigation in a recent interview with the Frankfurter Allgemeine Sonntagszeitung, saying the airline would be absolved of any wrongdoing.
"It is good because in the process of the investigation it will be determined that we aren't taking advantage of any short-term dominant market position," Spohr was quoted as saying.