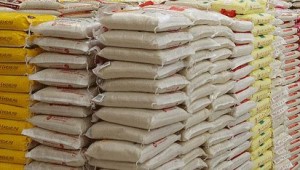 The raid of Sango Ota Rice Garage on Tuesday night by operatives of the Nigeria Customs Service sent "shivers down the spines" of Alaba Rago market rice sellers in Lagos.
The sellers, who expressed fear of a raid by officials of the Customs Service, had adopted more strategies to woo customers.
Some of the sellers said on Thursday in Lagos that Customs officials ought to restrict their operations to the borders.
According to them, there is no reason for Customs to go into the markets to harass sellers whose business are to sell the commodity and fend for their families.
"We are sellers and not smugglers,'' Titilope Dauda said
Dauda moved her 95 bags of rice from the warehouse to an unknown depot for fear of being impounded.
"We source our products from the people that go to Seme to buy; we do not have anything to do with going to the border.
"The Customs should restrict their onslaught to the entry points as coming into the markets will mean dispossessing us of our capital while the main culprits go free,'' Dauda said.
Another seller, Haruna Dogo, said it was wrong for the operatives to invade the garage at night.
"If they (Customs officials) know that there is nothing shady in their act, they should come during the day time when everybody is there,'' Dogo said.
A rice transporter, Gab Amadi, said he did not see anything illegal in what the sellers were doing to have warranted raids, not to talk of a night raid.
"What they are selling is a staple food in Nigeria and most of them are getting their products from intermediaries.
"Therefore, if there is anything fishy in the trade, it is the main source of the product that the Customs should attack and not these daily income earners," Amadi said.
The Federal Government, in 2016, banned importation of rice through the land borders .