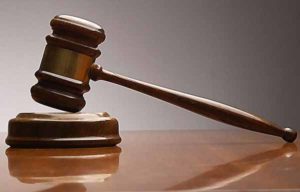 The Apapa Magistrates' Court has fixed March 24, 2017 as judgment day for a case between a clearing agent, Chukuma Akabogu and an importer, ThankGod Ahanwa Igboamalu.
The Magistrate, T.A Babalola had already permitted Akabogu through his claimant counsel, Barrister Eno Umoren-Mbaugo to serve summons by substituted means on Ahanwa.
Akabogu claimed that Ahanwa fraudulently defrauded him in a business transaction.
Akabogu, a clearing agent representing Remyrachel Global Ventures Limited, Lagos said he had a business transaction with ThankGod Ahanwa Igboamalu, an importer with Domacath Limited but that the importer failed to pay the agreed amount after he had done his own part of the job.
The claimant alleged that the defendant violated the agreement entered into by the two parties by disappearing from sight after his cargo was cleared from the port, thereby abandoning the outstanding clearing fees even after the agent had used his money to carry out the assignment.
The clearing agent is therefore demanding an outstanding sum of N1.2 million from the importer.