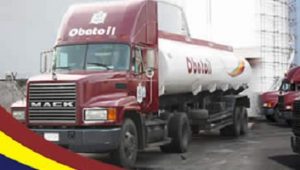 The Federal High Court in Lagos has directed Skye Bank Plc to take over Obat Oil and Petroleum Limited's depot over an alleged N2.1billion debt.
Justice Jude Dagat issued an order directing the Inspector-General of Police, the Assistant Inspector-General of Police, the Lagos Commissioner of Police as well as the court's Deputy Sheriff to assist in the enforcement of the order.
Obat Oil and Petroleum's depot at H.I.M. Oba (Dr.) F.E.O. Akinruntan Close, Beachland Estate, Apapa, Lagos, was sealed up yesterday pending liquidation of the debt.
The order followed an Originating Motion by Skye Bank seeking the enforcement of an arbitral award dated August 7, 2015.
Skye Bank had sought to recover a loan debt N2, 142,462,572.26 owed it by Obat Oil and Petroleum. The loan was guaranteed by His Imperial Majesty, Oba (Dr.) Frederick Eniti Akinruntan.
The bank further sought to recover 15 per cent interest on the amount from April 2014 till the liquidation of the debt.
The case was taken before an arbitrator, Aare Afe Babalola (SAN), during which Obat Oil and Dr. Akinruntan appealed for concessions and waivers on the amount of accrued interest, fees and commissions.
After the arbitration, the Arbitrator held that it would be fair and equitable to award N1, 406,944,352.76 to the claimant, which represents the amount the respondents admitted as being the outstanding balance as at March 31. Aare Babalola also awarded 10 per cent interest annually on the N1.4billion from the April 1l, 2014, till final liquidation of the amount.
The bank, however, alleged that Obat Oil and Dr Akinruntan failed to comply with the Arbitration Award. It applied to the court to order the award's enforcement.
Granting the application, Justice Dagat made an order granting Skye Bank leave to enforce the Arbitration Award against the respondents.
In compliance with the order, Skye Bank Friday proceeded to enforce the Arbitration Award against Obat Oil and Petroleum and Oba Akinruntan.
Copyright Ships & Ports Ltd. Permission to use quotations from this article is granted subject to appropriate credit given to www.shipsandports.com.ng as the source.