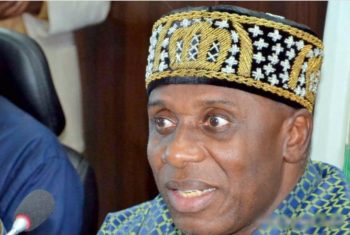 The Minister for Transportation Rotimi Amaechi on Monday allayed fears regarding the concession of the Nigerian Railway Corporation.
He also disclosed that the General Electric (GE) would be bringing 20 locomotives and 200 wagons to boost rail transit services in the country.
The Minister, who spoke after an inspection tour of the construction work on the Lagos-Ibadan Standard gauge, said his ministry has not committed the nation into any concession because it has not gotten any approval from the Federal Executive Council (FEC).
He said he would be tabling the matter before FEC by Wednesday.
Amaechi also had meeting with the railway workers where he approved that representatives of the workers be included as passive members in negotiations that may take place between the concessionaire and the transaction advisors especially on areas regarding their welfare.
He assured Nigerians that the ministry complied with all the rules regarding the terms of concession before approving GE as the narrow gauge concessionnaire.
Amaechi said concessioning the corporation remains the way out of the rot in the railway, adding that for Nigerians to embrace the railway, they must see improved services.
He said, "I had a meeting with the operational office of the GE this morning and I was told that besides the 20 locomotives, they are also willing to bring in 200 wagons to ease freight operations of the railway. We are feckless discussing with them to bring in coaches for ease and comfort of Nigerians."
The Minister during the field tour directed that owners of structures still standing along the right of way be given two weeks before such encumbrances are demolished.
He asked all those with valid documents among the people affected to come out with them as the government would compensate them for their loss.
He also directed that work be accelerated along the corridor.
At the town hall meeting with the workers Amaechi assures that he is ready to defend them and would continue to promote their welfare.
He said apart from owning and running the narrow gauge, GE also agreed to building a University of Transportation and a faculty of railway studies in order to create manpower for the sector and would start assembling locomotive and coaches locally while efforts would be made to begin full manufacturing locally within five years.
He therefore urged the workers to stand behind the government in its onerous task of rehabilitating, reforming and retooling the railway. 
Copyright Ships & Ports Ltd. Permission to use quotations from this article is granted subject to appropriate credit given to www.shipsandports.com.ng as the source.