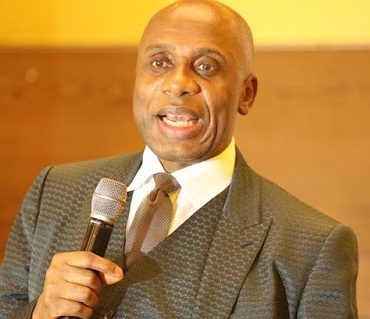 Minister of Transportation, Rotimi Amaechi denied reports that a train was shot at, saying that nobody shot at any train.
Speaking yesterday in Abuja when he presented the ministry's 2020 budget before the National Assembly Joint Committee on Marine Transport, Amaechi said the Federal Government was putting in place measures that would localize railway technology.
He also disclosed that the Federal Government has so far sent over 150 persons to two universities in China funded by the Chinese government to study railway engineering to help in the servicing of Nigeria's trains.
The Minister said that the Ministry of Transportation was proposing a total capital budget of N748 million for the marine sector and overhead of N358 million for the other segments of the ministry.
He said, "The first thing we address about the railway is safety because once it happens, a lot of persons will die. Each coach, for now, contains 87 persons, if we multiply it by 10 coaches, imagine the number of persons that will die.
"No driver will move if there is a safety problem. It is the same thing without tracks. We watch our tracks. Someone told me that he saw on social media that they shot at the train. I didn't reply because that is not true. There are air force planes following the train as it is going. There is a police vehicle on the side.
"There are policemen in the vehicle and when anything happens, they report to the Minister even when there is a stop.
"On maintenance and sustainability, if you check the picture of my trip to China, you will see some black men with the Chinese. I told them they learned from America and you copied the Americans in producing your coaches because when I went there, they were teaching them leadership and managing resources. I told them, let's not manage, tell us how you built these trains so that when it breaks down, we don't have to make a telephone call for you to come down and fix it. So we have agreed to design a curriculum and train all these people out there.
"Secondly, we have sent over 150 persons, children, to two universities in China funded by the Chinese government to go and read railway engineering. We hope that in four years they will graduate. Those who will do masters and Ph.D. will do that. We are establishing a transportation University in Daura. We are making sure that we have manpower to take over from the Chinese. We are trying to localise railway technology."
The Minister listed the areas where success had been by the Transportation Ministry to include port infrastructure development, maritime administration, human capacity, security and safety of waters and effective technical and economic regulations of the sector.
Copyright Ships & Ports Ltd. Permission to use quotations from this article is granted subject to appropriate credit given to www.shipsandports.com.ng as the source.