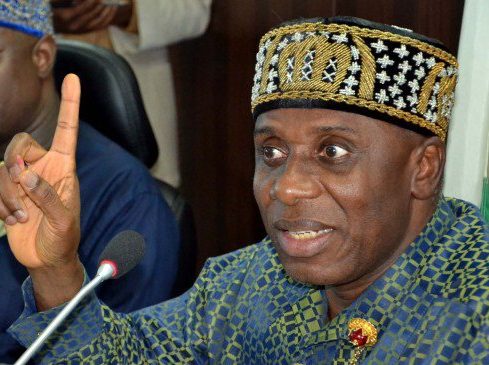 Nigeria's Minister of Transportation, Rotimi Amaechi, has said that his salary is "only N950,000" a month out of which he also paid his aides.
Speaking at the presentation of a book titled, 'Dignity in Service,' authored by the late Dr. Matthew Mbu, a former Minister of Foreign Affairs; Amaechi, who was the chairman of the occasion, said it was not true that only past leaders were honest.
While extolling the virtues of the late Mbu, Amaechi who served as the Governor of Rivers State between 2007 and 2014, said he would continue to promote transparency in government.
He said, "A minister earns only N950,000 a month. Out of this money, N350,000 is for accommodation so there is no more money given to you. The remaining N600, 000 includes payment for your staff, personal assistants and all that."
Amaechi said President Muhammadu Buhari's government had helped to stop the culture of waste such that private citizens no longer throw lavish parties.
"Nigerians like going to parties. That is one benefit of this government. We now assess our wealth and value money. Before, once you get money from the illegal means, we hold parties. There are very few parties these days because there is no more money to hold such parties.
"There are no 'owambe' anymore because there is very little money to hold 'owambe.' The reason is that the 'owambe' money used to come from the government and there is no money in the government to do such," he said.
Speaking earlier at the event, the Catholic Archbishop of Abuja, John Cardinal Onaiyekan, said it is worrisome that the older generation is refusing to leave the scene for the younger generation.
Onaiyekan, who is a former President of the Christian Association of Nigeria, said post-independence leaders like the late Chief Obafemi Awolowo, Nnamdi Azikiwe and Abubakar Tafawa-Balewa, were young when they did great things for Nigeria.
He said it was this sort of orientation that caused the late Mbu to be appointed a minister at the age of 23.
Onaiyekan, however, wondered if the younger generation could be given the sort of opportunity that existed in the 1960s.