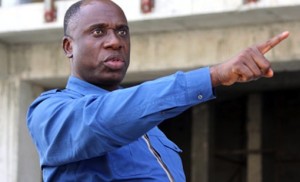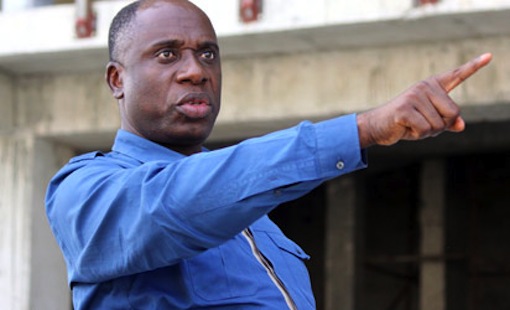 Minister of Transportation and immediate past Governor of Rivers State, Rotimi Amaechi, has again condemned his successor, Nyesom Wike over his claims that the over $43million found in an Ikoyi, Lagos State apartment by the Economic and Financial Crime Commission were stolen Rivers State funds kept in the apartment by him (Amaechi).
Wike had claimed that the luxury Ikoyi apartment belongs to Amaechi, a claim which the former governor debunked and had challenged his accuser to provide evidence of his ownership of the money and the apartment.
In a statement released by his media office in Abuja on Sunday, Amaechi again took a swipe at Wike for his failure to go to court to prove his claims before a judge, alleging that Wike was running in Rivers State "a government of lies, deceit, fraud and blood."
Amaechi also expressed support for  the call by Nobel Laureate, Prof. Wole Soyinka, who had advised that, in the fight against corruption, detractors who deliberately create distraction should be criminalised and prosecuted.
The statement said, "Nigerians would recall that on the night of Friday, April 14, during his … press briefing, Wike had threatened the President Muhammadu Buhari administration … vowing the mother-of-all legal actions against the Federal Government if the over $43m was not given to him within seven days.
"The seven-day ultimatum has long expired, yet no action, whether legal or otherwise by Wike to prove his … allegations and claim to the money.
"Again, on Friday, May 6, another wonderful opportunity was open for Wike to prove his … allegations against Amaechi and claim the money, before Justice Muslim Hassan of the Federal High Court, Lagos.
"The Judge had on April 13, directed that anyone who owns the money should come forward to claim it. Neither Wike nor his lawyers were any where near the court."
Amaechi said that Wike's "failure to prove his allegations" against him in a court of law or even in the court of public opinion clearly vindicated him "and completely exonerates Amaechi of any link or connection to the Ikoyi money and apartment."  
Copyright Ships & Ports Ltd. Permission to use quotations from this article is granted subject to appropriate credit given to www.shipsandports.com.ng as the source.