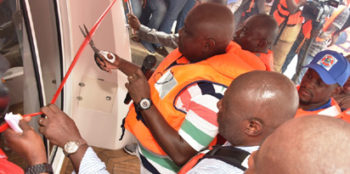 Lagos State Governor Akinwunmi Ambode yesterday opened three newly acquired executive boats, with a plan to divert at least two million passengers on the waterways daily.
This, he said, will reduce traffic on the road.
Ambode pledged to explore the tourism and economic potentials of the waterways.
Speaking at the unveiling of the boats held at Caverton Jetty in Civic Centre area of Victoria Island, the governor said he was committed to the implementation of the integrated transport management system designed to scale up water, rail and land transportation.
He said the boats and four Jet Skis recently acquired by the government was to ensure safety and fight crime on the waterways, while in coming months, the state would take delivery of additional seven commercial ferries.
He said, "This is a significant day for Lagos State as we commission three boats belonging to the Lagos State Government. We discovered that sometimes, we do not have the ability for our officials to go on the waterways to address issues relating to people and citizens that live alongside the waterways.
"As you aware, 25 per cent of Lagos is water and it is important that we put in the right initiatives that can actually make activities on our waterways to thrive and the also people living along the waterways to bring them into proper perspective.
"Sometimes when dignitaries come from other States or countries, they are not able to see the true side of Lagos from waterways perspective and that is one of the reasons we decided to procure the boats to promote tourism in the state so that people can see the great potentials of Lagos State."
Commissioner for Waterfront Infrastructure Development Adebowale Akinsanya said about 30 commercial routes on the waterways have been identified for dredging and channelisation, while 10 jetties spread across the state were being constructed.
The ministry, he said, was working with the Justice ministry to enforce compliance with safety standards and checkmate any illegal activity by operators.
Lagos State Emergency Management Agency (LASEMA) General Manager Tiamiyu Adeshina said the Jet Skis would be deployed to aid rescue operation in case of emergency, and helps to fight crime.
"Each of the Jet Skis has the capacity to carry two divers and the idea behind this is that when an incident occurred on the water, there is a Jet Ski that will move divers fast to the incident scene while the rescue boats are coming behind and when they get there, divers are dropping into the waters and as soon as they rescue people, we put them into the rescue boat and take them to hospital," Adeshina said.
Lagos State Waterways Authority (LASWA) Managing Director Damilola Emmanuel, said the commissioning was the beginning of sustainable development for the waterways, adding that apart from efforts by the agency to enforce safety standards, the government has concluded plans to license 10 new operators who would provide better ferries.