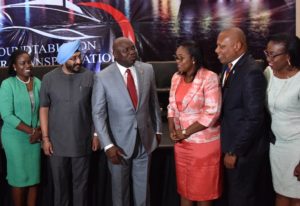 Lagos State Governor, Akinwunmi Ambode says he wants the private sector to own the state economy.
He said this was the only way to grow the Gross Domestic Product (GDP) of the state.
Ambode stated this in his speech at the first Roundtable on Water transportation organised by the state government under the auspices of the state ministry of transport at Eko Hotels, Lagos on Friday.
The Roundtable which was in collaboration with both local and international strategic partners, especially from the maritime industry, was organised to discuss the issues facing the state in the water transportation sector and identifying steps for progressively engaging and addressing them.
Ambode promised that his government would create the enabling environment and a sense of transparency for the private sector to invest in the state and grow the GDP of the state.
Among such conducive environment, he said is to give relief that will make the investors more comfortable, saying "Lagos is open to business, you can walk into Lagos and do your business.
According to him, the whole objective is not more about profit but to "create a platform for our people to live a more comfortable life".
Ambode who noted that the chaotic traffic situation in Lagos was due to the fact that concentration was more on road transportation to the neglect of other modes of transportation stated that it was his desire to develop other modes of transportation like rail and water to reduce pressure on the roads.
He said, "I have been trying to fight the chaotic traffic situation in the last three years. About 25 per cent of the 3,577 square kilometre land the state is made of is water, so why don't we think of other modes of transportation? We are already working on the rail system with the approval of the Federal Government, much has been done there but there is still a long way to go. So why don't we think of other modes of transportation?
"There are so many cars plying Lagos roads on a daily basis with about 6 million entering the business districts. We need to focus specifically on water transportation; the canoes doing that now are not good enough, there is also insecurity. So how do we convince car owners to come and use the waterways?"
The governor commended the strategic partners who had earlier pledged to partner, support and assist the government in waterways transportation through investments, research, financial grants, both technical and otherwise, training and management, freeing the waterways of wreckage and general clean-up of waterways.
Ambode said it is imperative for those concerned to do something about the chaotic traffic situation in the state more as the population of Lagos is expected to hit about 51 million in 20 years time from the current 20 million.
"If not those coming behind us will not forgive us if we fail to do something now," he said.